Accidentally Vegan: Let's Do Organic Non-GMO Cornstarch!
Have you ever thought about where your cornstarch comes from?  It never crossed my mind until this week.  I learned a lot, and that's why I decided to feature non-GMO cornstarch from Let's Do Organic (Edward & Sons).
You're probably wondering why we are discussing cornstarch.  I mean, all cornstarch is vegan, right?  As far as I know, that is true.  I believe that all cornstarch is vegan.  (If someone knows otherwise, please do comment on this article and share what you know with the community).  However, even if it is technically vegan, most cornstarch is made from genetically modified corn.  Yuck!
I was making a special Asian mushroom soup this week that required cornstarch, and I realized what a challenge it can be to find non-GMO cornstarch!
As I researched this product, I was happy to learn that the Let's Do Organic product line is part of the Edward & Sons family of brands.  The Edward & Sons brands make some of my favorite vegan products including no chicken bouillon cubes, to season rice, and organic black sesame brown rice crackers for dips. Soooooo yummy with olive tapenade! Anyway, I digress…
If you're also looking for a non-GMO cornstarch product, I found the Let's Do Organic brand at the Whole Foods in my area.  And you can also buy non-GMO cornstarch online in multi-packs through Amazon with free Super saver shipping.
Thank you to Edward & Sons for providing high quality, non-GMO products!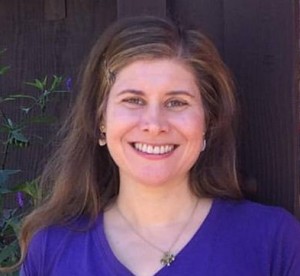 Rebecca Gilbert is the founder of Yummy Plants and the author of It's Easy to Start Eating Vegan. She's a former competitive figure skater whose switch to a vegan diet healed her chronic joint pain. Rebecca has been a featured speaker at events including the World VegFestival in San Francisco, Vegetarian Summerfest, the New York City Vegetarian Food Festival, and Paris Vegan Day. She has presented on live television and given corporate talks about healthy eating. Book Rebecca to speak at your organization.