Accidentally Vegan: Edy's Fruit Bars & Starbucks Frappuccinos!
Accidentally Vegan Starbucks Frappuccinos and Edy's frozen treats! 
Shared by Jessica Earhart
I have fond memories of chasing down the ice cream man with two-dollars in my hand in an exhaustive attempt to cool down in the 90 degree temperatures that July brings.   When I became vegan, I had to learn how to keep the summer tradition alive with dairy-free frozen treats that are vegan friendly. In this week's Accidentally Vegan, I am going to share some ways to beat the heat this July with delicious, easy to find, vegan frozen treats!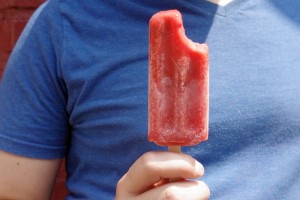 The first vegan treat is Edy's Strawberry Fruit Bars: by far the best popsicles I have ever had.  They are made from real strawberries and fruit juice, and are more flavorful than your average freeze pop.  They taste like strawberries right out of the patch!  They even have bits of real strawberries frozen inside of the popsicle to give you that real fruit taste and texture. You can find single Edy's Fruit Bars at convenience stores and pharmacies that have a freezer section.
You can also pick up boxes of 6 bars at your local grocery store. They are made in a multitude of flavors including: Peach, Tangerine, Grape, Lemonade, Lime. All of these flavors including my favorite, strawberry, are all natural, gluten free, and high in vitamin C!  At about 70 or 80 calories a bar (depending on the flavor), they are the perfect way to cool down!
The second accidentally vegan frozen treat featured today is Starbucks Frappuccinos.  You might be thinking, "I thought these weren't vegan" or "How could they possibly be vegan?"  Not all Frappuccinos are vegan, but some can be made vegan now.  In 2010, Starbucks formulated a new process for their Frappuccinos to allow for customized and also veganized Frappuccinos. For fancy frozen coffee beverage drinkers, like me, that might have been the best news that we heard in decades!  I absolutely love the coconut mocha Frappuccino with soy/no whip/no chocolate syrup. The mocha with soy  is great alone, but you can get a pump of peppermint or raspberry for a fabulous flavor fusion! It's a good way to cool down and get that little energy boost that we all need every once in a while!
For more vegan reviews of snacks, meat and dairy alternatives, visit the vegan Food Reviews section.
Jessica Earhart runs a vegan dessert company, Iron Betty Sweets, based in Pittsburgh, PA.  Jessica is a vegan foodie.  She makes gourmet and health conscious vegan foods and is dedicated to teaching people how yummy vegan meals can be!