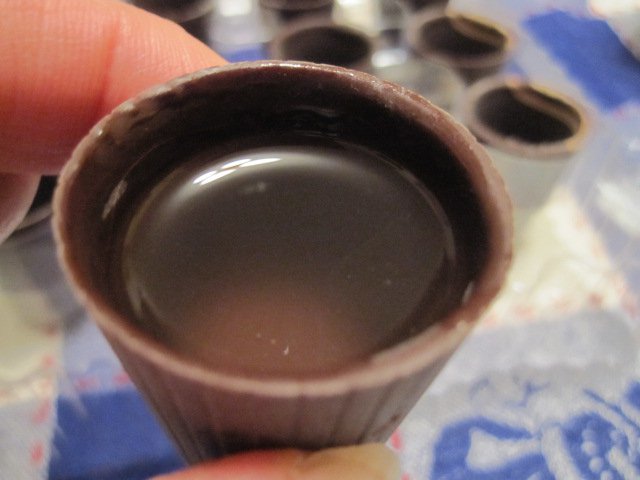 Accidentally Vegan: Astor Chocolate Shot Glasses!
Every day is a holiday with vegan chocolate shot glasses or dessert cups! You can fill these beauties up with mocktail goodies like Califia Peppermint Mocha Latte or Milkadamia Vegg Nogg, or even vegan whipped cream topped with blueberries or strawberries!
When I'm having a party at my house, I love to toast with a vegan chocolate shot glass. I fill it with my favorite liqueur and then  after I drink it, I get to eat the rich, chocolate glass… YUM! I found some online: Astor chocolate shot glasses in 1 12-pack or 24-pack.




These are delicious with orange liqueur, Creme de menthe, amaretto and vegan Baileys :)  What is your favorite liqueur?  If you're looking for a dairy substitute to veganize your favorites, you can make creamy vegan cocktails with So Delicious Coconut Milk Creamer.  You can also consult Drinkstreet.com and Barnivore for vegan drink recipes.
Note: several companies make the dark chocolate shot glasses: Astor and Lang's. (With Lang's, make sure to specify the DARK chocolate cups.) Make sure to double check the ingredients online before you purchase. Both of these brands were vegan at the time of this review.
You can buy pre-made glasses or chocolate molds to make your vegan chocolate shot glasses. Once you've tried vegan chocolate shot glasses, your parties will never be the same again.  Cheers!
Did you find a great Accidentally Vegan product?  Send us a note to share your discovery and you could be featured on a future edition of  Yummy Plants' Accidentally Vegan!   
Rebecca Gilbert is the founder of Yummy Plants and the author of It's Easy to Start Eating Vegan. She's a former competitive figure skater whose switch to a vegan diet healed her chronic joint pain. Rebecca has been a featured speaker at events including the World VegFestival in San Francisco, Vegetarian Summerfest, the New York City Vegetarian Food Festival, and Paris Vegan Day. She has presented on live television and given corporate talks. Book Rebecca to speak at your organization.