Accidentally Vegan: Confectious Chocolate Pretzels & Goji Berries!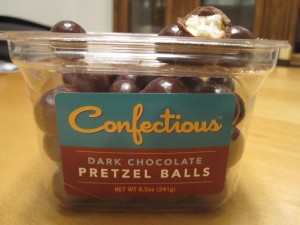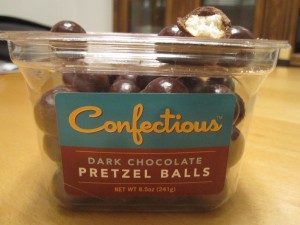 These accidentally vegan chocolate pretzels and goji berries treats were a complete surprise.  I was looking for chopped walnuts at Whole Foods the other day and discovered a whole new line of products in the bulk section.
This new supplier, Confectious,  has a variety of vegan treats!  I found the accidentally vegan chocolate pretzels, (dark chocolate covered pretzel balls), and dark chocolate goji berries at the Whole Foods in Pittsburgh, and I haven't seen these products anywhere else. (Note: I am classifying them as accidentally vegan because the labels did not contain any dairy or honey at the time of this post. I'm not sure what type of sugar they use.)
The dark chocolate pretzel balls were AMAZING!  They didn't even last a whole day!   Chocolate covered pretzels used to be my favorite treat, and it was really lovely to be able eat them again.
If you're looking for something slightly more healthy, the chocolate covered goji berries are also labeled as being covered with dairy-free dark chocolate. I was happy to learn the high nutritional value of goji berries; it took away some of my guilt for eating all the chocolate!  According to the Confectious label, 1/4 cup serving of goji berries contains 80% of the RDA for Vitamin A, 10% for Vitamin C, and 20% for Iron.
Yum, yum, yum!  Thank you Whole Foods for carrying vegan chocolate covered pretzels… what a treat!
For more vegan snacks, check out my vegan Food Reviews section.