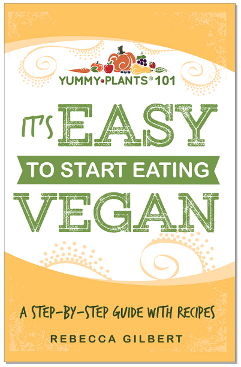 The Book: It's Easy to Start Eating Vegan!
Signed copies of It's Easy to Start Eating Vegan are available in the Yummy Plants store.
Copies are also available at:
Contact us for book club volume discounts.
If you've been thinking about going vegan but had no idea where to begin, watch this video!
Let Rebecca Gilbert's It's Easy to Start Eating Vegan be your guide.
Due to COVID, there are no future book signings scheduled right now.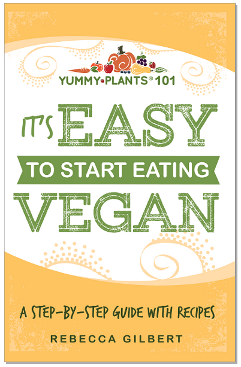 It's Easy to Start Eating Vegan is a beginner's guide with practical tips including: 
Easy egg and dairy substitutions
Ideas to stock your vegan pantry
Plant-based protein sources
Sample meal plans and  tasty, easy-to-make basic recipes
Tips for navigating social situations
*To ship internationally or for bulk orders please contact us.  


$14.95
Would you like your book signed by the author or dedicated to someone special? Please specify details at checkout.*We regret that we cannot fulfill international orders online. If you'd like to order copies and are living outside of the U.S., please contact us for shipping costs. Your purchase makes a difference.
When you order from one of the Vegan-friendly stores, or direct from Yummy Plants, your purchase supports a vegan lifestyle and community.
Thank you for your purchase!
Support for the book:
"If you wanted to take advantage of the incredible benefits of a vegan diet but were not quite sure where to start, this is it! This easy, step-by-step guide brings you everything you need. This book is fun, authoritative, and written by someone who's made the transition you're about to make now. You will love it."
Neal D. Barnard, MD
President, Physicians Committee for Responsible Medicine
"Yummy Plants is exactly what you can expect from Rebecca's book. This guide is filled with mouth-watering vegan recipes that will have your whole family asking for seconds. Get started on a healthier lifestyle right here!"
Robert Cheeke
Bestselling author of Vegan Bodybuilding & Fitness – The Complete Guide to Building Your Body on a Plant-Based Diet.
"If you're on the fence about going vegan, read this book! You'll want to jump right in. Rebecca teaches you how to stock your vegan pantry so that you can start creating amazing meals in no time!"
Jenny Engel and Heather Goldberg
Co-Owners of Spork Foods
"She makes vegan food so accessible and irresistibly appealing to the millions of Americans who have never considered how delicious and beautiful a vegan diet can be."
Ellen Jaffe Jones @vegcoach.com
Author of Eat Vegan on $4 a Day, Kitchen Divided, and Co-author of Paleo Vegan
"Demystifying the vegan diet with tips, charts, recipes, and explanations of all those weird grains you never heard of, It's Easy to Start Eating Vegan! YUMMY PLANTS 101 is an easy to digest, nuts and bolts guide that I wish I had when I became vegan."
Brian L. Patton
Creator of thesexyvegan.com, author of The Sexy Vegan Cookbook and The Sexy Vegan's Happy Hour at Home 
"Making delicious plant-based recipes accessible to everyone in an important step in saving our health, the animals, and the environment, and Rebecca Gilbert's excellent new book makes it easy to start eating vegan! Chock full of basic tips, helpful lists, sample meal plans, and super yummy recipes, this book is a must read for anyone who is looking to adopt a vegan lifestyle!"
Laura Theodore, host of the PBS vegan cooking series Jazzy Vegetarian, and author of Jazzy Vegetarian Classics.