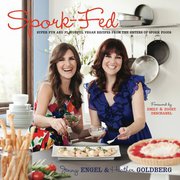 Spork Foods of LA & Vegan Cookbook: Spork-Fed!
Spork Foods is a Los Angeles-based gourmet vegan food company owned and operated by sisters Jenny Engel and Heather Goldberg.  Spork Foods was also a winner of the 2010 VegNews Veggie Awards!
What makes these two sisters so special? Jenny trained at the Natural Institute for Food and Culinary Arts in NYC and she strives to heal people through her cooking.  She wants them to "feel invigorated when they walk away from the table."  Her challenge is to take classic, non-vegan recipes and finding a way to create a vegan version. Heather has been practicing a vegan lifestyle for eleven years. She enjoys studying food history and the medicinal benefits of food.  She has over a decade of experience in the non-profit environmental world. Heather and Jenny work together to help people who are vegans, veg-curious or just looking to learn new ways of cooking.
Services offered:
Live cooking classes in LA  – contact Spork Foods
One-on-one healthy pantry makeovers
Vegan recipe development/ training for chefs, food companies and colleges
Online vegan cooking classes – sign up online
We were so excited to learn that their new cookbook Spork-Fed is launching in October 2011.
Check out their preview!

We noticed that the site also offers Spork Foods gift cards for their cooking classes.  This will be our new favorite gift for our vegan and veg-curious friends in LA!
Good luck Jenny and Heather!