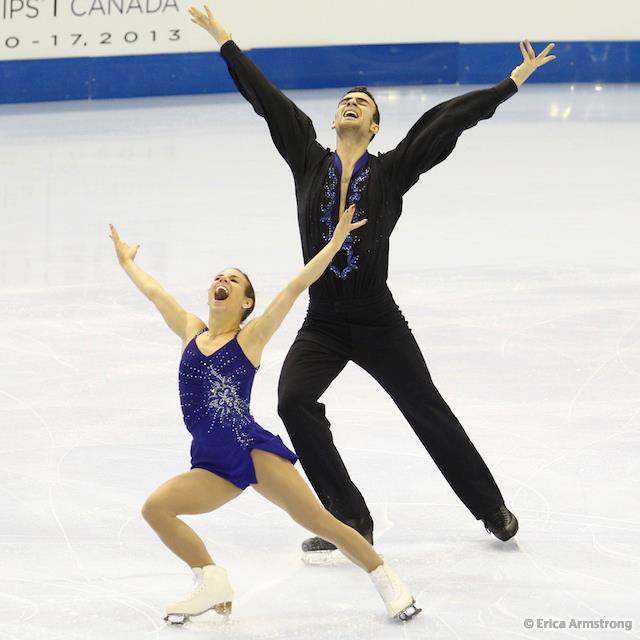 Meagan Duhamel: A Vegan Skates to Conquer the World (Championships)!
Powerful, graceful – and vegan!  Those three words describe Megan Duhamel, who with her partner Eric Radford, recently became the 2013 Canadian National Pairs Champions.  Meagan is one of the best women jumpers in the history of pairs figure skating, and she credits her vegan diet!
Strong singles skaters who combine to make an even stronger pair team, Megan Duhamel and Eric Radford are on their way to the World Figure Skating Championships in their home country, Canada!  The 2013 World Figure Skating Championships will be held March 11th – 17th in London, Ontario.  Their connection with each other, the security with which they skate, and their sheer joy of skating create a true emotional experience with the audience.   I love watching them!
Their winning performance at Canadian Nationals was absolutely stunning complete with side by side triple lutzes, a three-jump triple combo (triple sow-double-toe-double-toe), and a throw triple  loop and lutz that soared.  Meagan and Eric bring incredible athleticism and jumping ability to the pairs competition.  Watch their long program performance that mesmerized the crowd!
Meagan Duhamel and Eric Radford at the 2013 Canadian National Pairs Championship
Meagan's plant-based nutrition has given her an edge on the ice (pardon the pun).  Four years ago, after reading Skinny Bitch, Meagan decided to become a vegan.   "I have always loved to jump! And to fly!  Doing triple jumps is second nature to me.    Since becoming a vegan, my jumps have been more effortless, and I credit this to the fact that my body is in peak form all season long."  She believes her vegan diet has improved her general health as well:  "My health took a 360 degree turn.  I have a better balance in my body.  I sleep better.  My skin is better.  My energy levels are better.  I feel stronger, calmer, and more at peace with everything."  Along with fruits and veggies, she eats a lot of soy yogurt and granola, smoothies too.
Competitive skaters' rigorous schedules make it difficult for Meagan to indulge in tasty, fresh vegan cuisine while traveling.  Before she leaves for a trip, she Googles to find vegan restaurants in the area but sometimes she doesn't find any.  So she fends for herself and often brings her own food, although the International Skating Union does provide catered meals for the skaters.  "I can usually find oatmeal, rice, potatoes, or salad at the buffet," Meagan says.  "But that's about it.  When I come home, I always crave a homemade vegan feast."
Meagan is an active ambassador for a plant-based diet. "I'm very interested in spreading the word about athletes who follow plant-based diets."  She doesn't know many other vegan athletes, and told us, "I'd love to meet more though!"  (If any vegan athletes are reading this, please reach out to Meagan through the pair team's Facebook page!
Meagan's entire family has been supportive of her skating career.  They often had to sacrifice to afford her training expenses.  How proud they must be of this extraordinarily determined and talented young woman.  What a wonderful gift to have her skating in her home country at the world championships next week!
Before winning the 2013 Canadian Pairs title, Megan and Eric were the gold medalists at the 2012 Canadian Nationals, and silver medalists in 2011 at Four Continents and at Canadian Nationals.  Among Meagan's other achievements are a bronze medal, (with former partner Craig Buntin), at Four Continents in 2010 and silver and bronze medals in earlier Canadian Nationals.