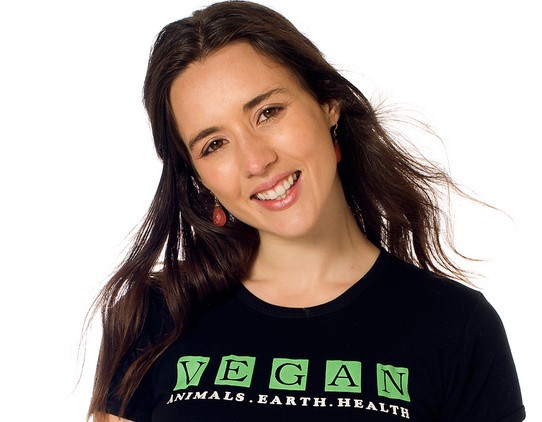 The Eco-Vegan Gal Mission: Motivate, Support, and Inspire
The Eco-Vegan Gal website is more than just a helpful resource for newbie vegans; it's also smart, upbeat, and easy on the eyes—just like the gal who founded it.
Tuning into Eco-Vegan Gal (www.ecovegangal.com) is a lot like hanging out with your best friend: Comfortable, fun, and encouraging. No surprise, when you meet Whitney Lauritsen, the brain behind the brand.  Lauritsen dishes good green advice and serves it with a side of supportive enthusiasm, just like your nearest and dearest would.
The friendly, welcoming tone the site projects is rooted in Lauritsen's own attitudes about the future—her own, as well as the planet's. "I want to live a long, healthy, happy life and I want the rest of the world to do the same," she says. "If more people join forces, it will get easier and better, so that's why I'm so motivated to spread the word."
Lauritsen, who went vegan nearly a decade ago at the age of 20, grew up in rural Massachusetts, where she was surrounded by flora and fauna—an environment that helped foster her ethics. "I learned at a very young age to love and respect animals," she says. In college, she studied film production, and quickly developed a passion for video as an effective communication tool. When Lauritsen launched Eco-Vegan Gal in 2008, she made a conscious decision to make the content video-rich, and it's that engaging visual element that sets the site apart from the rest.
Whether explaining the benefits of B12 or encouraging viewers to ditch plastic, Lauritsen's earnest delivery, thoughtful tone, and well-researched information make tuning into Eco-Vegan Gal a feel-good learning experience.  Her style really resonates with her faithful viewers, though Lauritsen depends on her audience just as much as they do her. "Without them, Eco-Vegan Gal would have stayed a hobby and may not be running today, but with them I feel incredibly supported and involved," she says.

For would-be vegans looking for a sense of community, the Eco-Vegan Gal website is a virtual Shangri-La. Between the tips, advice, and candid video conversations on topics that really matter, Lauritsen herself is a motivating force who exemplifies the lifestyle she promotes for the betterment of the planet and the creatures inhabiting it. "In the end, I just want to inspire others to be the best they can be to themselves and the rest of the world."
Eco Vegan Gal's tried-and-true travel tips
Besides her love of healthy eating and eco-friendly living, Whitney Lauritsen loves to travel. Here are her top tips for a green travel experience.
1. Be prepared and flexible!
2. Plan the trip around the availability of eco and vegan food and accommodations.
3. Stock up on fresh produce and dry snacks without sugar, oil, or salt.
4. Keep reusable water bottles, produce bags, food tins, utensils, and napkins accessible.
By: Aurelia d'Andrea lives in Paris, where she writes, bikes, and eats far too much chocolate. Aurelia is the author of Vegetarian Paris.