Easy and Elegant Veggie Dish for Entertaining
Looking for an easy and elegant veggie dish for company?  This one is a snap!The beauty of this dish is that you can make the filling the day before.  You can fill the squash with anything:
kamut
, roasted veggies, dip, anything… your imagination is the limit!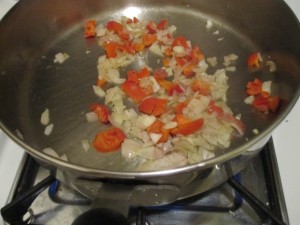 To make this variation, follow the basic recipe for the kamut and porcini mushroom recipe to make the kamut filling.  Add the sweet red pepper in last 5 minutes of the onion/ shallot saute.  (You could also try with a jalapeño pepper as well, the spicy variation could be delicious!)
Bake the squash while you are preparing the filling.  When both the squash and the filling are ready, place the kamut/ porcini mixture in the lovely acorn squash "bowl."   The acorn squash adds a touch of sweetness to balance the tang, just like the butternut squash does, and the natural scalloped shape of the acorn squash makes it a fancy dish for company.  Serve the each squash half over greens or surround with other roasted veggies to add color and flavors to the dish.
Note that acorn squash tend to be smaller than most butternut squash, so change the bake time to 25 – 35 minutes.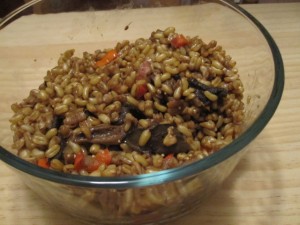 This dish is a great one to master.  If you keep the filling on hand, you can whip up a beautiful dish very quickly for spur of the moment gatherings or guests.  It's super simple to make, it tastes great and it looks beautiful.  Bon appetit!
And if you have any extra squash, you can make a great 5-minute meal with the leftovers!