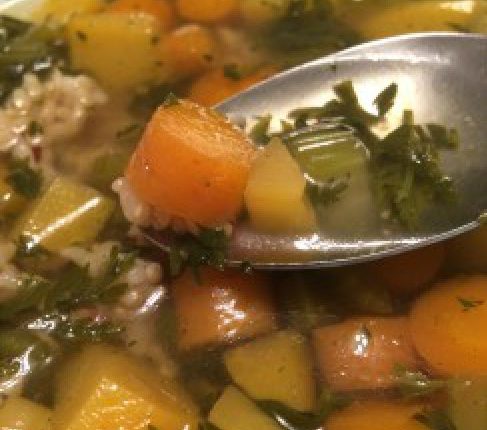 Carrot Top Soup
I hate wasting food so I came up with a recipe for carrot top soup!
I frequently buy my carrots at the local farmers market and they come with the lovely green carrot tops still attached. For months I would remove the greens and toss them away. I decided there must be something I could do with these nutritious greens and carrot top soup has become one of my favorite recipes :) It's quick, it's easy, and most importantly, it's delicious!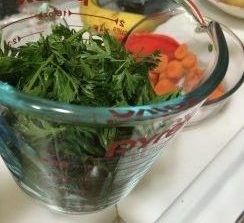 Visit the Yummy Plants vegan recipe collection for more easy vegan recipes. 
Are you a beginner vegan? Visit the Start Here section or pick up a copy of It's Easy to Start Eating Vegan from the Yummy Plants store.

Carrot Top Soup
Servings: 6
Ingredients
2 cups chopped carrot tops
2 chopped carrots
3 stalks chopped celery
1 medium potato
2 bouillon cubes
6 cups of water
Salt and pepper to taste
2 tablespoons of olive oil
1 cup uncooked red rice
Instructions
Cook rice in a separate pot according to package instructions.

While rice is cooking, prepare the soup. Dice carrots and celery. Heat 2 Tbps of olive oil in a pot over medium heat. Add the diced carrots and celery. Cook for about 5 minutes, stirring occasionally.

While the celery and carrots are cooking, finely chop the rinsed carrot tops until you have at least 2 cups worth of greens. Dice the potato.

Add 6 cups of boiling water and 2 vegan bouillon cubes to the pot. Stir until the bouillon cubes are dissolved. Add the chopped carrot top greens and potato.

Cook for approximately 20 minutes, or until the greens are completely cooked. Salt and pepper to taste.

Serve in individual bowls. Add cooked red rice for extra texture.
Hope you enjoy this easy vegan recipe!
Notes
Canned beans may be added to cooked soup for extra protein and texture.
Share your experience