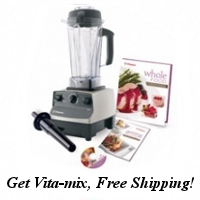 Vita-Mix
Get FREE SHIPPING when you order a Vita-Mix through Yummy Plants!
We use the Vita-Mix to make everything from the "live" pie crusts and homemade nut milks to super creamy seasonal soups and yummy hummus. A Vita-Mix is the one appliance that we use almost every day and that makes preparing vegan meals a snap.
To get free shipping, you'll need to order over the phone, not online.  Call 800-848-2649  and give them coupon code 06-005989. They can discuss new machines, replacement containers, and even refurbished machines.