Vegfest UK: Brighton, Bristol, London, and More!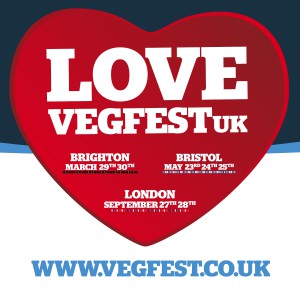 Vegan fairs and festivals are blooming across the UK. Vegfest UK organizes the three largest venues – Brighton, Bristol, and London – which attract thousands of visitors each year.  It also supports and promotes the smaller fairs throughout the UK.
What began in 2003 as the Bristol Vegan Fayre, an outdoor rock and roll party with great vegan food and products, has become an inspiration for the multitude of Vegfests which followed.
Vegfest UK created the vegan fairs to cater to vegans and to introduce people who choose to eat meat and dairy to an abundance of plant-based, animal- free options.  According to Vegfest UK spokesman Tim Barford, there are about ½ million vegans and about 5 million vegetarians in the UK.  He believes the "flexitarian" approach and an extensive marketing campaign bring in many people who might not otherwise attend a vegan festival.
This year's  Brighton Vegfest, held on March 29 and 30, highlighted animal rights and vegan fare.   The upcoming Bristol Vegfest, scheduled for May 23-25, is an outdoor festival  featuring music  – from punk to reggae – along with a dazzling display of veggie foods  and vegan products.
The London Vegfest, September 27 and 28, promotes vegan goods and goodies in style.  It's HUGE.   For vegan visitors planning a fall excursion to Britain, the London Vegfest will be a delicious experience.  It combines the cuisines of London (and nations from around the globe) with a mega-market of cutting-edge vegan merchandise.  The London Vegfest site has information on hotels and restaurants for London visitors.
Any vegan fair will be lots of fun.  Here's a calendar of the various fests for 2014.  Check out the Vegfest UK site for more details on each fair.
We'd love to cross the pond for all of these!
UK Veggie Fairs:  April – December 2014
APRIL
April 12:  Live a Better Life Fair (Liverpool)
April 26: Viva! Incredible Vegan Roadshow (Gloucester)
 
MAY
May 10: Great Yorkshire Vegan Festival (Leeds)
May 10:  Colchester Vegan Fair (Colchester)
May 17:  Manchester Vegan Fair (Manchester)
May 23,24,25:  VegfestUK Bristol (Bristol)
 
JUNE
June 7:  North West Vegan Festival (Lancaster)
 
JULY
July 4,5,6:  V Delicious Show (London)
July 25,26,27:  Snowden Vegan Party (Gwynedd)
July 26:  Newcastle Vegan Festival (Newcastle)
July 26:  Norwich Veggie Fayre (Norwich)
July 26:  Sponsored Walk up Snowden (Gwynedd)
 
AUGUST
August 2 through 16:  Vegan Camp 2014 (near Southport, Lancashire)
August 17:  London Vegan Festival (London)
 
SEPTEMBER
September 13:  Northern Vegan Festival – with Live a Better Life (Blackpool)
September 27,28:  VegfestUK  London (London)
 
OCTOBER
October 4:  Live a Better Life Fair (Edinburgh)
October 25:  West Midlands Vegan Festival (Wolverhampton)
 
NOVEMBER
November 2 or November 9:  North East Vegan Festival (Sunderland)
November 22:  Animal Aid's South West Christmas Without Cruelty Festival (Exeter)
November 29:  Viva! Incredible Vegan Festive Fair Bristol (Bristol)
 
DECEMBER
December 7:  Animal Aid Christmas Fayre (London)
3 Responses to "Vegfest UK: Brighton, Bristol, London, and More!"