Vegans Around the World: Spotlight on Paris and Deborah Pivain!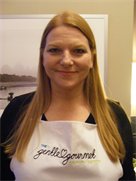 What do you get when you add Paris + French Cuisine + Deborah Brown Pivain +Vegan Festival?  Paris Vegan Day.  C'est si bon!  Merveilleux!  Fantastique!
Meet Deborah Brown Pivain, the generous, energetic entrepreneur who created and organized Paris Vegan Day for the past three years and who opened the Gentle Gourmet Café, a vegan restaurant, café, and food boutique in Paris in May 2012. (We can't wait to try the vegan croque-monsieur!)
Deborah has always followed her heart, first to France and then to a vegan lifestyle.  At 19, the Cleveland, Ohio, vegetarian moved to Paris to study, drawn there by the images of Audrey Hepburn and Paris in the movie Sabrina.  (At the age of seven, after seeing Sabrina with her mother, Deborah had vowed, "I am going to Paris when I grow up" and so she did.)
Long story short, France provided Deborah with love, a family, and a life full of organic cooking (with veggies from her large organic garden in Normandy).  Jump ahead a few years to 2008.  Deborah and her grown children decide they want to open a vegan cooking school in Paris but the plan doesn't pan out.   Instead they open a bed and breakfast, the Gentle Gourmet.  After the Gentle Gourmet launches successfully, Deborah decides to promote veganism through a festival and Paris Vegan Day is born.
The first year of the festival, 2009, 400 attended; an astonishing 4780 attended in 2010; and more than 8000 people attended in 2011.  In the beginning to get the festival going, the Gentle Gourmet covered all the expenses.  Deborah and her children took no salaries from their business. They put the profits from the Gentle Gourmet towards the development of Paris Vegan Day.
This year their focus is the new vegan restaurant.  Deborah set forth her vision for the Gentle Gourmet Café, "We want to embody a new way of life where people can have it all – vibrant health, delicious convivial moments, participation in an ecologically healing and sustainable lifestyle, and an affirmation of a respectful society which upholds the rights of all beings to live out their lives as nature intended.  The profits from the brunch on the second Sunday of each month will go to animal safe havens."
Deborah's enthusiasm for her work and her vegan lifestyle center her.  When asked about her advice for other vegan entrepreneurs, Deborah said, "Love what you are doing and why you are doing it.  Love your customers and truly want to give them your absolute best."
Bonne chance, Deborah, on the new Gentle Gourmet Café and thanks for establishing Paris Vegan Day.  We can't wait to join you there! (To prepare us for the trip, Deborah has given Yummy Plants tips for vegan tourists in Paris.)