New York City, NY
Our vegan-friendly restaurant section lists restaurants where you can get a vegan entree. We only list restaurants that we have visited or our community members have submitted, where we can promise that can eat more than just a salad. Please keep checking back: the Yummy Plants team and our community members are adding new vegan-friendly restaurants all the time. If you don't see your favorite vegan-friendly restaurant listed, please use this link to share your favorites with the community! http://yummyplants.com/submit-a-restaurant/
Note: All of the restaurants that we list are vegan-friendly. Some are 100% vegan restaurants and are listed as 100% vegan in the description. Most of the restaurants in our list serve vegan and non-vegan food options.

Chop't Creative Salad is vegan-friendly.
Get the Details!
Location: Various Locations, New York, New York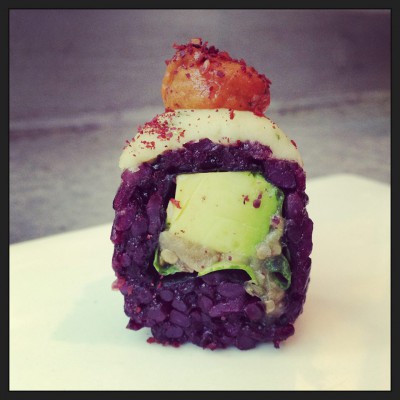 Visited the Chelsea Market shop a few weeks ago when I was visiting New York.  They had samples of the vegan sushi — it was WONDERFUL!!!
Get the Details!
Location: 229 E. 14th Street, NYC & Chelsea Market: 75 9th Avenue, NYC, New York, New York

646.861.2889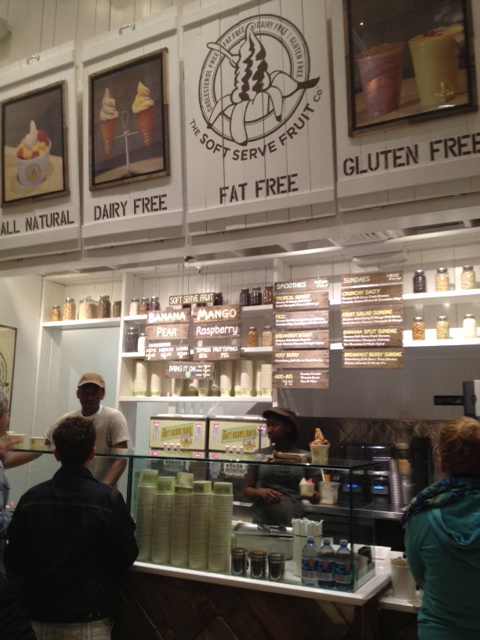 Soft Serve Fruit Co. is an AWESOME place! The interior decor is very comfortable and organic in aesthetic. Their main product, soft serve fruit, is made of just three ingredients: fruit, water, and natural cane sugar. This product is proudly vegan, low calorie, dairy free, gluten free, & kosher parve. The menu includes soft serve [...]
Get the Details!
Location: 25 East 17th Street (Broadway), New York City, New York

212.675.0550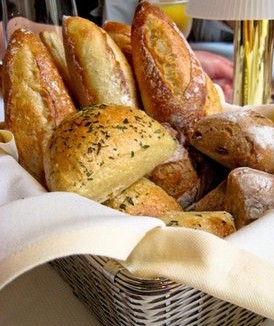 Del Posto is one of New Yorks finest italian restaurants. One would assume that the menu would be a vegan's nightmare, especially because the menu has the choice of chefs tasting or the 5 course meal, however that isn't the case. Chef Mario Betali has created an entire vegan chefs tasting menu that is absolutely [...]
Get the Details!
Location: 85 10th Avenue , New York, New York

(212) 497-8090
Located in the Upper West Side, Cafe Blossom is a more casual alternative to its sister restaurant Blossom in Chelsea.  Cafe Blossom has counter service, outdoor seating and take-out options.  Like the original Blososm, Cafe Blossom is 100% vegan and will thrill you with the sheer number of delicious options like Seitan Marsala, Bacon Soy Cheeseburger, [...]
Get the Details!
Location: 466 Colombus Avenue, New York, NY

212-875-2600
If you are traveling to NYC, Blossom is a MUST try. Whatever dietary lifestyle you happen to be following, Blossom will not disappoint. It was voted the best vegetarian restaurant in NYC in 2008 and 2009 by Time Out NY. The entire vegetarian menu is actually vegan and their specialties like Rigatoni in Porcini Cream and Lavender Creme Brulee will leave you mesmerized and delighted.!
Get the Details!
Location: 187 9th Avenue, New York, New York

212-627-1144
Wrapido is a great option if you're looking for a quick and healthy meal on the go.  Although the restaurant does deliver, there is also a small eat-in/ pick-up location near the Fashion District.  They have lots of vegan-friendly options including hummus, grilled veggies, fallafel, veggie wraps and fresh fruit.  They have free delivery too!
Get the Details!
Location: 171 West 23rd Street (23rd St off 7th Ave), New York, NY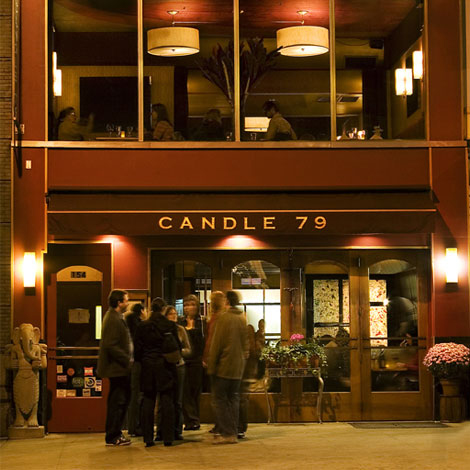 Candle 79 is a shining example of upscale vegan dining.  Vegan or not, this food is amazing!  With dishes like spinach morel ravioli with saffron-cashew cheese, grilled wild-mushroom stuffed tempeh, and a Mexican chocolate brownie, Candle 79 offers an exciting range of flavors and textures for everyone.
Get the Details!
Location: 154 E. 79th Street (at Lexington), New York, NY
Angelica Kitchen is one of those rare finds you're sooooo grateful someone shared with you.  Every single item on the menu is 100% plant-based… every appetizer, every main course, every soup and every dessert is vegan… AND everything is delicious!   The chefs use local, organic ingredients and serve farm-to-table less then 48 hours after harvest.  [...]
Get the Details!
Location: 300 East 12th Street, New York, NY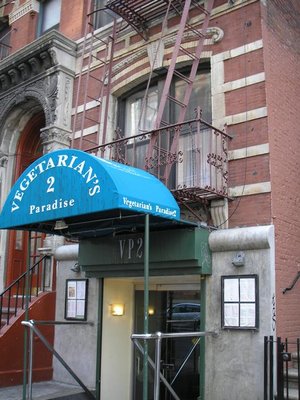 Vegetarian's Paradise has plant-based versions of some old favorites like turkey sandwiches and crispy chicken.  All "meats" are made from soy protein, wheat gluten and vegetable products.  Seving Asian-Soul Cuisine, Vegetarian's Paradise is a unique and delicious culinary adventure!
Get the Details!
Location: 144 West 4th Street, New York, NY
This place actually has awesome pizzas with vegan cheese – that melts!!!  Yes, you heard me correctly… it melts!  Viva Herbal has pizzas with Daiya cheese (made from pea protein) as well as a green pizza option with pesto and no "cheese."  They have wheat-free crusts like cornmeal and spelt too.  If you've been missing [...]
Get the Details!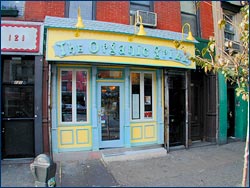 Wonderful organic, vegan, vegetarian food. Cozy, friendly and affordable!
Get the Details!
Location: 123 First Avenue, New York, New York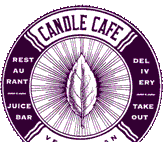 Organic vegan food – absolutely delicious. Reasonable in cost, and very fast service. Highly recommended.
Get the Details!
Location: 1307 Third Avenue, New York, New York