Los Angeles, CA
Our vegan-friendly restaurant section lists restaurants where you can get a vegan entree. We only list restaurants that we have visited or our community members have submitted, where we can promise that can eat more than just a salad. Please keep checking back: the Yummy Plants team and our community members are adding new vegan-friendly restaurants all the time. If you don't see your favorite vegan-friendly restaurant listed, please use this link to share your favorites with the community! http://yummyplants.com/submit-a-restaurant/
Note: All of the restaurants that we list are vegan-friendly. Some are 100% vegan restaurants and are listed as 100% vegan in the description. Most of the restaurants in our list serve vegan and non-vegan food options.
If you've been looking for organic and raw vegan ice cream, KindKreme is the place for you!  Their "ice kremes" are made from coconut, cashew, and almond milk.   KindKreme has several locations in the Los Angeles area.  The entire menu is gluten free (except for the Newman O's topping).  They also feature other raw vegan desserts, [...]
Get the Details!
Location: 1700 W. Sunset Blvd., Los Angeles, CA

213-989-1718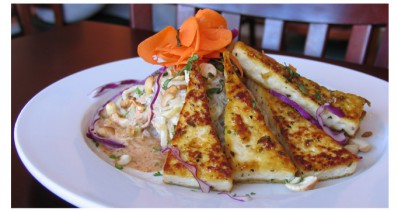 Sun Cafe, located in the LA area, is a dream come true for anyone following or exploring a raw vegan diet.  This vegan restaurant was voted the #1 raw restaurant in Los Angeles by BestofRaw.net and almost everything on their vegan menu is gluten-free!     They use only organic ingredients and provide 100% vegan cuisine.  Check out their [...]
Get the Details!
Location: 3711 Cahuenga Blvd, Los Angeles, CA

818-308-7420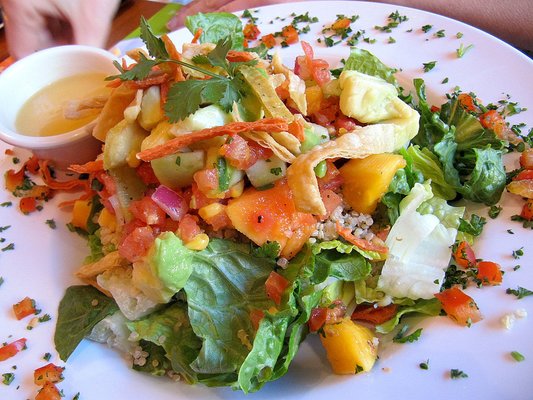 The Veggie Grill has consistently been voted one of the best vegan restaurants in LA. They make it so easy to be a vegan! I LOVE that they offer sweet potato fries and vegan chocolate chip cookies. (Of course they have super healthy options like a marinated kale salad and quinoa pasta). If you're in [...]
Get the Details!
Location: 8000 West Sunset Boulevard, Los Angeles, California
What a cool place!  All of their items are organic and they don't use any white sugar or MSG.  They have breakfast all day long  (love that!) and super yummy vegan "meat."  Here's a link to their menu: http://www.lotusvegan.com/menu.php
Get the Details!
Location: 5028 Vineland Avenue, Los Angeles, California
This place is AMAZING! The entire menu is dairy-free, even the mayo! And it is such a pleasure to know that everything is vegan… we don't even have to ask.  With its mix of "burgers" and fries, exotic salads, and pizzas with vegan cheese, there are lots of super yummy options.  And the desserts… oh [...]
Get the Details!
Location: 9343 Culver Blvd, Culver City, California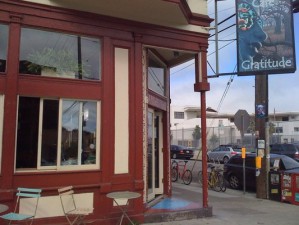 Cafe Gratitude is one of those very special places that you need to experience for yourself. Everything is completely plant-based, (vegan), and they still have chocolate mousse pie and nachos with cheese sauce! They have multiple locations in Santa Cruz and LA.
Get the Details!
Location: 2400 Harrison Street, San Francisco, CA, 94110