Ithaca, NY
Our vegan-friendly restaurant section lists restaurants where you can get a vegan entree. We only list restaurants that we have visited or our community members have submitted, where we can promise that can eat more than just a salad. Please keep checking back: the Yummy Plants team and our community members are adding new vegan-friendly restaurants all the time. If you don't see your favorite vegan-friendly restaurant listed, please use this link to share your favorites with the community! http://yummyplants.com/submit-a-restaurant/
Note: All of the restaurants that we list are vegan-friendly. Some are 100% vegan restaurants and are listed as 100% vegan in the description. Most of the restaurants in our list serve vegan and non-vegan food options.
Pizza Aroma serves Daiya cheese on their vegan pizza and has just about any veggie you could want to put on your pizza. Eggplant, spinach, broccoli, roasted red peppers, avacado, etc. My favorite pizza combo is their Daiya cheese pizza with tomato and fresh basil. Yummy. A great place to get a pizza!!
Get the Details!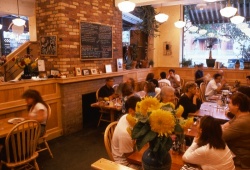 I bought their cookbook years ago – the restaurant is even better!
Get the Details!
Location: 215 N. Cayuga Street, Dewitt Building, Ithaca, New York