Decatur, GA
Our vegan-friendly restaurant section lists restaurants where you can get a vegan entree. We only list restaurants that we have visited or our community members have submitted, where we can promise that can eat more than just a salad. Please keep checking back: the Yummy Plants team and our community members are adding new vegan-friendly restaurants all the time. If you don't see your favorite vegan-friendly restaurant listed, please use this link to share your favorites with the community! http://yummyplants.com/submit-a-restaurant/
Note: All of the restaurants that we list are vegan-friendly. Some are 100% vegan restaurants and are listed as 100% vegan in the description. Most of the restaurants in our list serve vegan and non-vegan food options.
BBQ restaurant with vegan BBQ and sides. Owner's wife is vegan. Closed on Mondays.
Get the Details!
Location: 614 Church Street, Decatur, Georgia

404-373-7155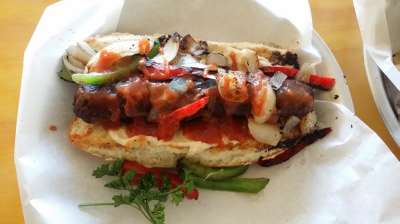 Go Vegetarian Restaurant provides great tasting food with natural ingredients. All of their proteins are made of 100% vegan sources, either of vegetables, soy products, gluten, grains, and/or legumes. Just say "Go Vegan" when placing your order to substitute your dairy toppings with vegan ones. All of the great-tasting breads are vegan.
Get the Details!
Location: 2179 Lawrenceville Hwy Suite H, Decatur, Georgia

404-481-5923