Boulder, CO
Our vegan-friendly restaurant section lists restaurants where you can get a vegan entree. We only list restaurants that we have visited or our community members have submitted, where we can promise that can eat more than just a salad. Please keep checking back: the Yummy Plants team and our community members are adding new vegan-friendly restaurants all the time. If you don't see your favorite vegan-friendly restaurant listed, please use this link to share your favorites with the community! http://yummyplants.com/submit-a-restaurant/
Note: All of the restaurants that we list are vegan-friendly. Some are 100% vegan restaurants and are listed as 100% vegan in the description. Most of the restaurants in our list serve vegan and non-vegan food options.
100% vegan. They use sprouted grains, avoid soy, and simply amazing!
Get the Details!
Location: 4457 Broadway St, Boulder, Colorado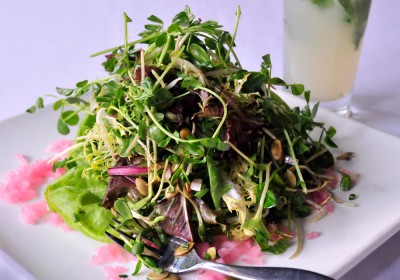 This is a lovely little white table cloth vegetarian restaurant with vegan options. The owners manage several other top notch restaurants in Boulder (not all vegetarian). Leaf is next to one of their other restaurants – Aji- which serves upscale Latin food. What makes that nice is that you can either dine at Aji or [...]
Get the Details!
Location: 2010 16th Street, Boulder, Colorado

303-442-1485