Berkeley, CA
Our vegan-friendly restaurant section lists restaurants where you can get a vegan entree. We only list restaurants that we have visited or our community members have submitted, where we can promise that can eat more than just a salad. Please keep checking back: the Yummy Plants team and our community members are adding new vegan-friendly restaurants all the time. If you don't see your favorite vegan-friendly restaurant listed, please use this link to share your favorites with the community! http://yummyplants.com/submit-a-restaurant/
Note: All of the restaurants that we list are vegan-friendly. Some are 100% vegan restaurants and are listed as 100% vegan in the description. Most of the restaurants in our list serve vegan and non-vegan food options.
Gather in Berkeley has some vegan options. It's better for a mixed group than a group of vegans.  One yummy vegan option is a braised mushroom sandwich. The sandwich has a cashew puree that's awesome!
Get the Details!
Location: 2200 Oxford Street, Berkeley, California

(510) 809-0400 gatherrestaurant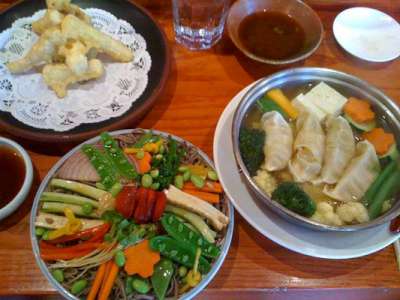 Cha-ya has a large, all vegan menu.  Prices at Cha-ya are good, and the space is quaint and inviting. 
Get the Details!
Location: 1686 Shattuck Avenue, Berkeley, California

510-981-1213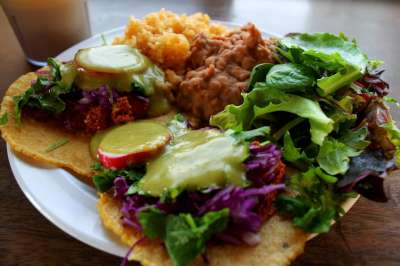 This is a great, inexpensive, small vegan taqueria. If I had my wish, this is the type of simple, fresh, bursting-with-flavor food that Gracias Madre (the more famous, but far less tasty, vegan Mexican joint in the Bay Area) would serve. Come to think of it, I can't really name any other vegan Mexican joint [...]
Get the Details!
Location: 3031 Adeline Street, Berkeley, California

510-981-8081
I rarely give 5-star reviews (roughly only 5% of my reviews have 5-star ratings), but Cinnaholic is seriously awesome. It's a simple bakery where you can make your own cinnamon rolls with a huge variety of sauces and toppings, or you can just get one of their pre-set styles (the varieties change by the day). [...]
Get the Details!
Location: 2132 Oxford Street, Berkeley, California

510-647-8684