Stockholm
Our vegan-friendly restaurant section lists restaurants where you can get a vegan entree. We only list restaurants that we have visited or our community members have submitted, where we can promise that can eat more than just a salad. Please keep checking back: the Yummy Plants team and our community members are adding new vegan-friendly restaurants all the time. If you don't see your favorite vegan-friendly restaurant listed, please use this link to share your favorites with the community! http://yummyplants.com/submit-a-restaurant/
Note: All of the restaurants that we list are vegan-friendly. Some are 100% vegan restaurants and are listed as 100% vegan in the description. Most of the restaurants in our list serve vegan and non-vegan food options.
This pizza restaurant is where you can get vegan pizza with vegan "meat" and vegan "cheese." The restaurant also serves "ordinary" pizzas. The other restaurant that offered this before, Tevere, was sold in 2012 but the chef took up the challenge and now O Mamma Mia offers a menu of about 20 different vegan pizzas.
Get the Details!
Location: Kungstensgatan 62, Stockholm, Sweden

08-7288866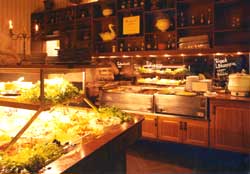 Örtagården – Stockholm's first vegetarian restaurant offers a really good bang for the buck. The restaurant offers a huge buffet with food from many corners of the world. The majority of the food served is vegan. The low price and the amount of food you get makes it well worth a visit. Dessert is included.
Get the Details!
Location: Nybrogatan 31 , Stockholm, Sweden

08-6621728
Maybe the most well known vegetarian restaurant in Stockholm, it is a must-visit if you go there! Most of the food served is vegan and the buffet is excellent. Every weekend there is a different theme on the buffet, including Tex Mex, India, Asia, Middle East, Mediterranean, Scandinavia and Christmas food. Hermans also offers some [...]
Get the Details!
Location: Stadsdel: Katarina / Sofia Fjällgatan 23B 116 28 , Stockholm, Sweden

08-6439480