Select the most important criteria and use our decision-making tool to find the best juicer for you.
Raw Vegan Organic Handmade Chocolate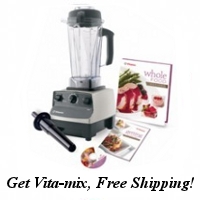 Get FREE SHIPPING when you order a Vita-Mix through Yummy Plants!
Shop safe & secure and get all your regular purchases delivered to your door!
Our small team is committed to creating a fun user experience to help you explore a plant-based life. Whether you are following a vegetarian diet, a vegan diet, or simply adding more vegetables to your diet, I'm asking for your help so that we can better understand what topics and features are important to you. We have created a short, anonymous survey. It should take less than five minutes to complete. Let us know what is important to you. Thank you so much!