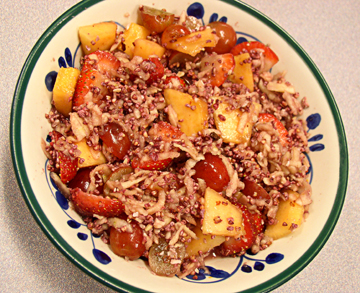 Thanks to Dr. Joel Fuhrman of DiseaseProof.com for sharing this easy raw vegan recipe with us!  Just soak the oats overnight in pomegranate juice to soften the oats.  Pomegranates are super yummy, and they are packed with Vitamin C, fiber and potassium.  This recipe makes an easy raw vegan breakfast or anytime snack!
We are so excited to have a vegan dessert recipe from Chef Hilary Zozula!  She has shared her recipe for raw, vegan, gluten-free chocolate brownies!!!  They only take about 30 minutes to prepare and an hour to firm up in the fridge… and they are worth every second of the wait!  Co-owner of Eden in Shadyside, [...]
This sweet plant-based side dish is a yummy addition to any meal.  It's sweet, creamy and absolutely satisfying.  It makes a great dish for your vegan Thanksgiving menu too!  It's a snap to make and you can prepare the rest of the meal while the squash is roasting.