Vegan Recipe - Stuffed Butternut Squash with Apples and Cranberries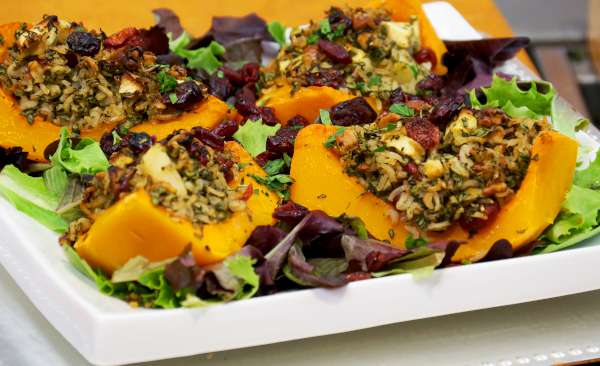 Prep Time :

25 minutes

Cook Time :

60-90 minutes

Servings :

4
Thanks to Laura Theodore, the Jazzy Vegetarian, for this awesome vegan Thanksgiving entrée idea!
Laura says, "Choosing a fabulous star entrée for a vegan Thanksgiving menu can be challenging. This colorful recipe features one of my favorite fall foods - Stuffed Butternut Squash.  In this satisfying dish, hearty squash quarters are filled to the brim with nutty tasting rice, sweet apples and tangy dried cranberries or cherries. The butternut squash assures a velvety and buttery base topped with the delectable and satisfying stuffing. Bonus: This recipe is made without using oil or vegan margarine, making it low in fat, while still being high on great taste – making it an excellent main dish to serve at any holiday meal!"
Laura is the author of the fabulous cookbooks Jazzy Vegetarian Classics and The Jazzy Vegetarian!
Ingredients
1 very large (or 2 medium/small) butternut squash, peeled and seeded
2 cups cooked short grain brown rice
1 1/2 cups finely chopped spinach
1 medium/large apple, peeled, cored, and diced
1/4 cup dried cranberries or cherries
1/4 cup finely chopped walnuts (optional)
1 teaspoon all-purpose seasoning
1/2 teaspoon sea salt
1/4 teaspoon ground cinnamon
Preparation
1. Preheat the oven to 375 degrees F. Line a casserole dish or rimmed baking sheet with unbleached parchment paper.
2. Cut about 3 inches off the top of the squash and set aside. Cut the squash lengthwise into 4 pieces. (If using smaller squash, cut each squash in half lengthwise). Slice a small sliver off the bottom of each squash piece making a flat surface so the squash will stand upright. Put the rice, spinach, apple, cranberries, optional walnuts, seasoning, sea salt, and ground cinnamon in a medium bowl and stir to combine.
3. Divide the mixture evenly into the hollowed center in each of the four squash pieces. (see note) Tent with foil and bake for 1 to 1 1/2 hours or until the squash is very soft. For a crisp topping, remove the foil for the last 15 minutes of baking. Let cool 10 to 15 minutes and serve.
NOTE: Put any leftover stuffing in a covered casserole and bake it for 40 minutes. Perfect as a side dish for another meal.
Let us know what you think of this easy vegan recipe: Stuffed Butternut Squash with Apples and Cranberries!