Vegan Recipe - Thick Berry Smoothie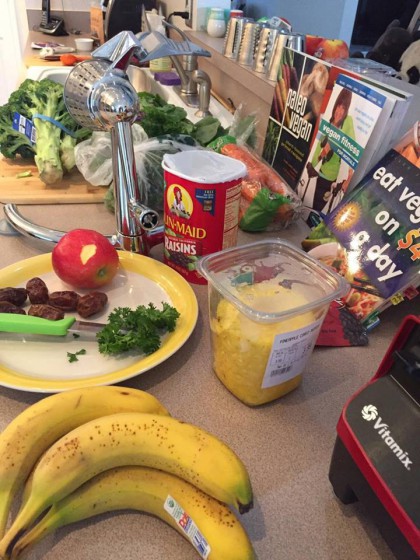 Prep Time :

5 minutes

Cook Time :

2 minutes

Servings :

2
Vegan marathon runner Ellen Jaffe Jones shares a recipe with permission from her new book, Vegan Fitness for Mortals, published by Book Publishing Company!  Ellen says, "To summarize my tips: Listen to your Body big time, Finish without injury. Don't get the "terrible twos"–too much too soon, and you're good to go."
Ellen has also written Eat Vegan on $4 a Day, Kitchen Divided, and co-authored Paleo Vegan with Alan Roettinger.
Ingredients
1 frozen banana, broken into pieces
1 apple, cored and chopped
½ to 1 cup nondairy milk
4 to 6 lettuces leaves or other leafy greens, torn
1 can (4 ounces) pineapple chunks packed in juice,
or 2 fresh pineapple rings
¼ cup raisins or goji berries
4 to 8 pitted soft dates
4 to 6 ice cubes
Cocoa powder or vegan mini chocolate chips, for garnish
Preparation
Put all the ingredients in a blender and process until creamy and smooth.
Let us know what you think of this easy vegan recipe: Thick Berry Smoothie!