Vegan Recipe - Super Stacked Tempeh Tacos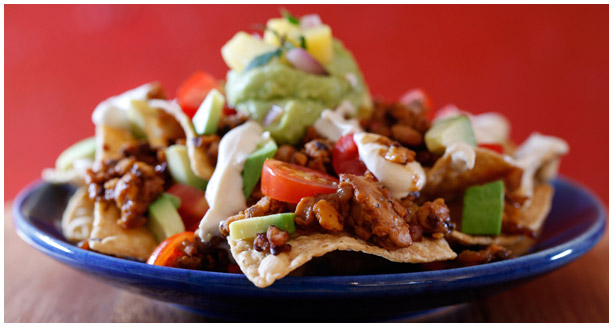 Prep Time :

15 minutes

Cook Time :

15 minutes

Servings :

4-6
Looking for easy vegan Cinco de Mayo recipes?  This Super Stacked Tempeh Tacos shared by Tempeh Girls takes less than 30 minutes to prepare!
Ingredients
1 package Tempeh (8oz)
2 Tbsp 
soy sauce

1Tbsp Olive oil
1 onion chopped,
1 tsp taco seasoning (Chef uses Bearitos)
1-2 Handfuls of 
corn chips
1 cup tomatoes, chopped
1/4 cup guacamole or a 1/4 avocado chopped
Lime to squirt the lime juice on top (1/2 a lime to one avocado)
1/2 
mango, chopped small

Optional: Dollop of sour cream
Preparation
1. Saute crumbled tempeh in 1 Tbsp olive oil
 and 2 Tbsp soy sauce for 3-4 min until browned.
 Note: I put mine in a food processor for about10 seconds to make smaller crumbles. This depends on the processors, so experiment to get the size crumbles you like.
2. Add 1/2 cup water to the tempeh and 1 tsp taco seasoning ( I like Bearitos). Simmer for 2 minutes to allow the flavors to combine.

Assemble Super Stacked Tacos:

1. Start with chips on the bottom – blue tortilla are nice too. Top with the cooked tempeh, chopped tomatoes, chopped mango, and guacamole or chopped avocado. Add a squirt of lime and optional sour cream.
Quick tip - I often buy ready made guacamole and mango salsa to make this quicker!
Let us know what you think of this easy vegan recipe: Super Stacked Tempeh Tacos!