Vegan Recipe - Summer Bowties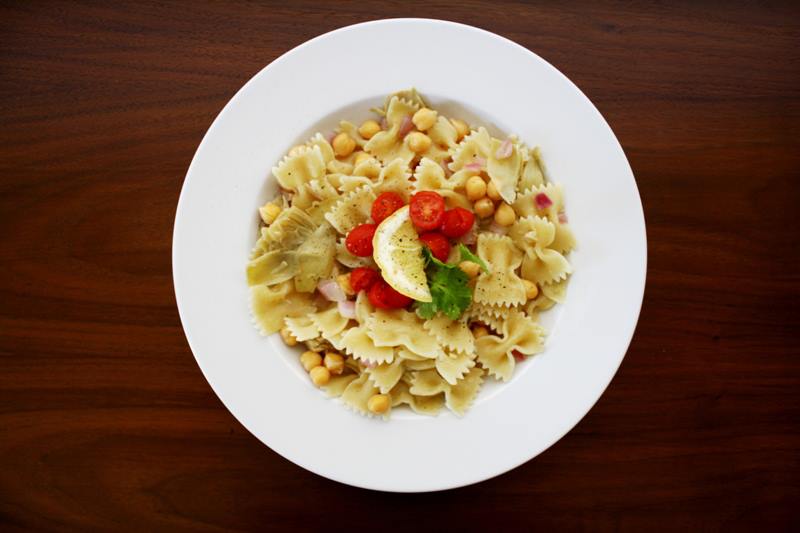 Prep Time :

10 minutes

Cook Time :

20 minutes

Servings :

6-8
We're so excited that Toni Okamoto, founder of Plant Based on a Budget, shared one of her super yummy vegan recipes that any vegan on a budget would love!  Toni shares that each serving only costs about $.65.  Now that's a vegan recipe to celebrate!  Check out http://plantbasedonabudget.com for more easy vegan recipes that fit any budget.
Note: Try using quinoa or rice pasta to make this a gluten-free dish.
Ingredients
1 bag of Farfalle pasta
1 small red onion
2 cloves garlic
1/4 cup olive oil
6.5 oz bottle of marinated artichoke quarters, drained
1 can garbanzo beans, drained
juice of one lemon
1/2 tsp lemon rind
pepper, to taste
salt, to taste
cherry tomatoes, in halves to garnish
Preparation
1. Boil pasta according to package directions. Drain and set aside.
2. In a large pan add olive oil, onions, garlic and saute until onions are translucent. Add artichoke quarters, garbanzo beans, lemon rind and juice, salt and pepper and let simmer over medium heat for five minutes. Add drained pasta, mix well.
3. Garnish with halved cherry tomatoes and freshly grated pepper.
Let us know what you think of this easy vegan recipe: Summer Bowties!