Vegan Recipe - Pepper Stew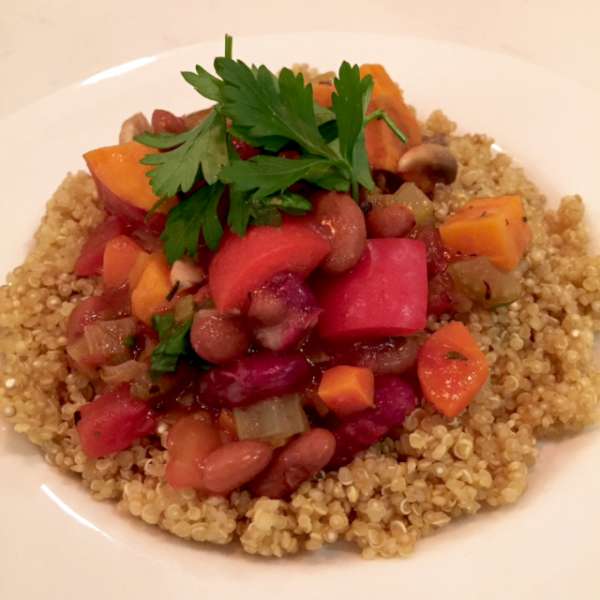 Prep Time :

30 minutes

Cook Time :

30 minutes

Servings :

6
Thanks to Caryn Dugan from STL Veg Girl for sharing this delicious and nutritious stew for Meatless Monday!
Caryn says, "A new take on the affordable Hot Pepper Stew the soldiers ate during the Revolutionary War to keep up their energy, this version leaves out the tripe and bacon, but adds in hearty beans, immune supporting kale and protein packed quinoa.  Still easy on the pocketbook, this new and improved version will also help prevent illness, is waistline friendly and will keep your energy up so you can conquer even the biggest challenges of your day."
Watch STL Veg Girl make this recipe live on TV!
Ingredients
2 cups quinoa
4 1/4 cups vegetable broth
1 cup carrots, diced
1 cup celery, diced
1 leek, cut in half lengthwise and sliced into thin moons
1 jalapeno pepper, seeded and diced
8 ounces of mushrooms, washed and roughly chopped
4 cloves of garlic, minced
1 sweet potato, cubed to 1-inch pieces (do not peel off skin)
2 red bell peppers, roughly chopped
28 ounces fire roasted tomatoes
14 ounces red kidney beans
14 ounces pinto beans
1/2 teaspoon dried thyme
1/4 teaspoon celery seed
1/8 teaspoon ground cloves
3 bay leaves
sea salt/ground pepper to taste
2 cups baby kale, roughly chopped
2 teaspoons arrowroot
4 teaspoons water
Italian parsley
Preparation
1. Cook the quinoa in four cups of vegetable broth and set aside.
2. Heat up a very large saucepan over high heat and add in the remaining broth. Begin to saute the carrots, celery, leek, jalapeno and mushrooms. As the mushrooms release their juices, add in the rest of the ingredients (through the salt and pepper). Mix well and bring to a boil, cover and bring it down to a simmer for 20 minutes. Add in the kale, mix and cover again for another 5 minutes.
3. Whisk together the arrowroot and water, pour into the sauce pan and gently stir. The mixture will become thick.
4. Plate one half cup of quinoa and scoop the stew on top. Garnish with fresh Italian parsley.
Let us know what you think of this easy vegan recipe: Pepper Stew!