Vegan Recipe - Peanut Butter Brownies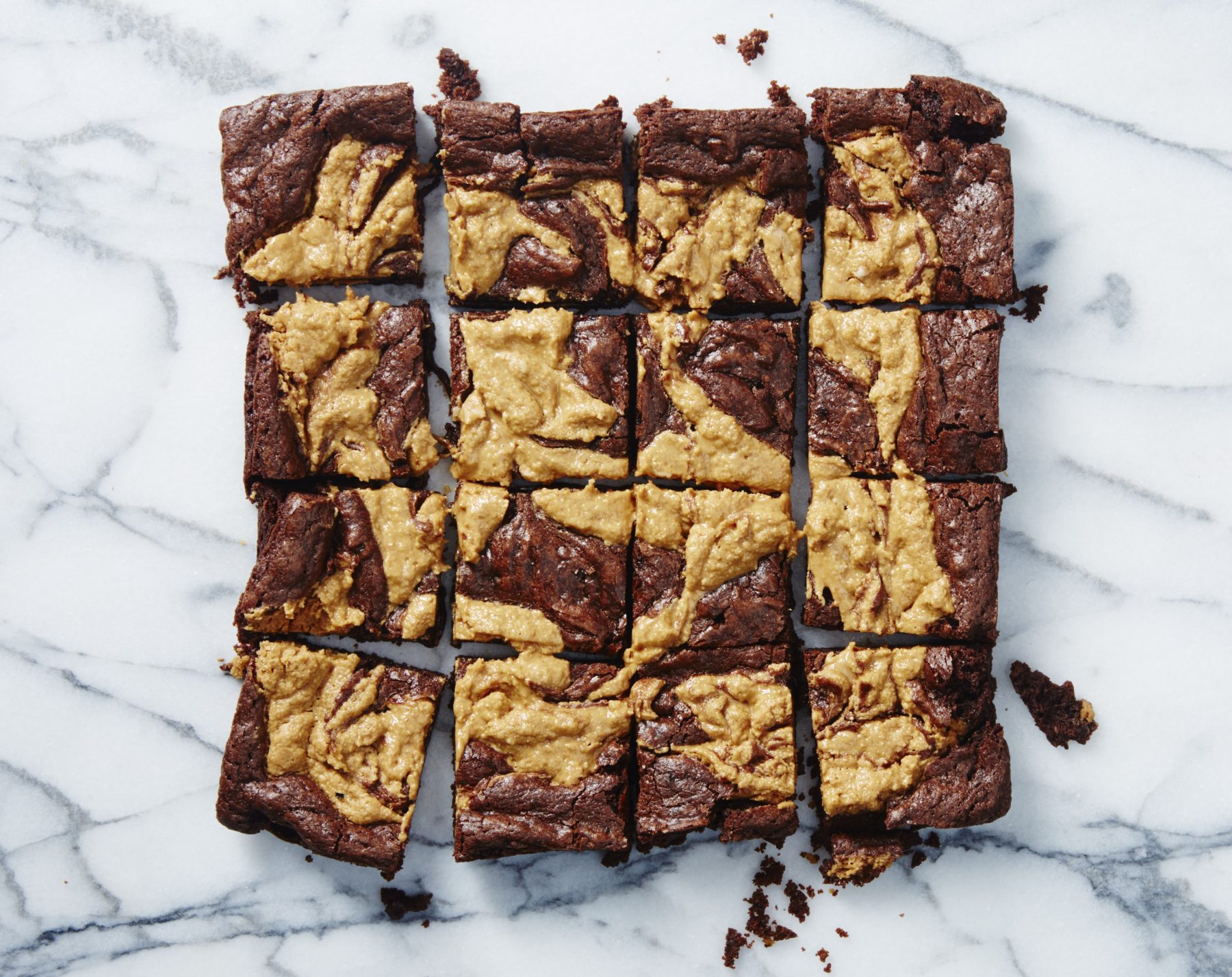 Prep Time :

20 minutes

Cook Time :

30 minutes

Servings :

12 brownies
Thanks to Isa Chandra Moskowitz for sharing this incredibly yummy easy vegan recipe for Peanut Butter Brownies!
Isa says, "These brownies are deep and rich and have a satisfying, addictive peanut butter swirl that looks as neato as it tastes."
Excerpted with permission from The Superfun Times Vegan Holiday Cookbook ©2016 by Isa Chandra Moskowitz.  Published with permission of Hachette Book Group.  Photo credit by Vanessa Rees.
Ingredients
For the peanut butter swirl:
1/2 cup creamy natural peanut butter
1/2 cup powdered sugar, sifted
1 tablespoon refined coconut oil, melted
1/2 teaspoon pure vanilla extract
Pinch salt
For the brownies:
3 ounces semisweet chocolate chips
1/4 cup refined coconut oil
1/3 cup unsweetened almond milk (or your favorite non-dairy milk), at room temperature
1 teaspoon pure vanilla extract
1 tablespoon cornstarch
2/3 cup granulated sugar
3/4 cup plus 2 tablespoons all-purpose flour
3 tablespoons Dutch-process cocoa powder
1/2 teaspoon baking powder
1/8 teaspoon salt
Preparation
Make the peanut butter swirl:
In a mixing bowl, stir together all the swirl ingredients until smooth. Set aside.
Make the brownies:
1. Preheat the oven to 350°F. Line an 8-inch square metal pan with aluminum foil, then coat the foil with nonstick cooking spray.
2. In a large metal bowl set over saucepan of simmering water, melt the chocolate with the coconut oil, stirring with a rubber spatula, until smooth. Remove from heat.
3. In a mixing bowl, whisk together the milk, vanilla, and cornstarch. Add the warm chocolate mixture to the mixing bowl and stir until well combined. Add the sugar and mix well.
4. Sift in the flour, cocoa, baking powder, and salt and fold until well combined (a few lumps are okay). Pour the batter into the prepared pan and spread it to the edges.
5. Drop spoonfuls of the peanut butter mixture onto the brownie batter in the pan, then use a butter knife to swirl it in. Bake until a toothpick inserted in the center comes out mostly clean, 18 to 20 minutes.
6. When cool enough to handle, lift the foil out of the pan, slice the brownies, and serve!
Let us know what you think of this easy vegan recipe: Peanut Butter Brownies!