Vegan Recipe - Creamy Pumpkin Soup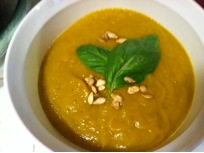 Prep Time :

15 minutes

Cook Time :

40 minutes

Servings :

4
Inspired by the fabled Cinderella and her pumpkin, Morselicious Mo created this fabulous, "creamy," dairy-free pumpkin soup recipe. YUM!  It makes a great dish for a vegan Thanksgiving table. And it's part of our vegan Thanksgiving recipes section.
Ingredients
1 tablespoon oil
4 scallions (green onions), chopped
2 cloves garlic, thinly sliced
1 tablespoon chopped fresh ginger
1/4 jalapeño pepper
1/2 teaspoon turmeric
1 cup water
1/3 cup vegetable broth
1/2 cup non-dairy "milk"
1 medium sized pumpkin, peeled and cut into chunks
OR 3 1/2 cups canned pumpkin
1/2 cup Italian parsley, chopped
2 tablespoons hemp seeds, toasted
2 tablespoons pumpkin seeds, toasted
Optional: Cashew cream
Preparation
1. Spread hemp, pumpkin or sesame seeds on a shallow baking sheet and toast for 10-15 minutes (Optional – but it makes them soooo good!).
2. While the seeds are toasting, heat the oil in a large saucepan over low heat.
Add the onion, garlic, ginger and jalapeño and sauté until the onions are translucent
(not browned) approximately 5 minutes.
3. Add the water and pumpkin. Cook for 40 minutes over a medium heat.
4. Once all the vegetables are cooked, puree the soup in a blender or food processor.
5. Top with parsley, basil, seeds and a spoonful of cashew cream.
Swirl the cashew nut cream into the soup for a wonderful creamy consistency (and it makes it pretty).
*Option, for a more intense pumpkin or squash flavor, cut pumpkin or squash in half and slow roast in oven, cut side down, at 350° for at least 30 minutes prior to adding to the soup.
Let us know what you think of this easy vegan recipe: Creamy Pumpkin Soup!