Vegan Recipe - Creamed Cauliflower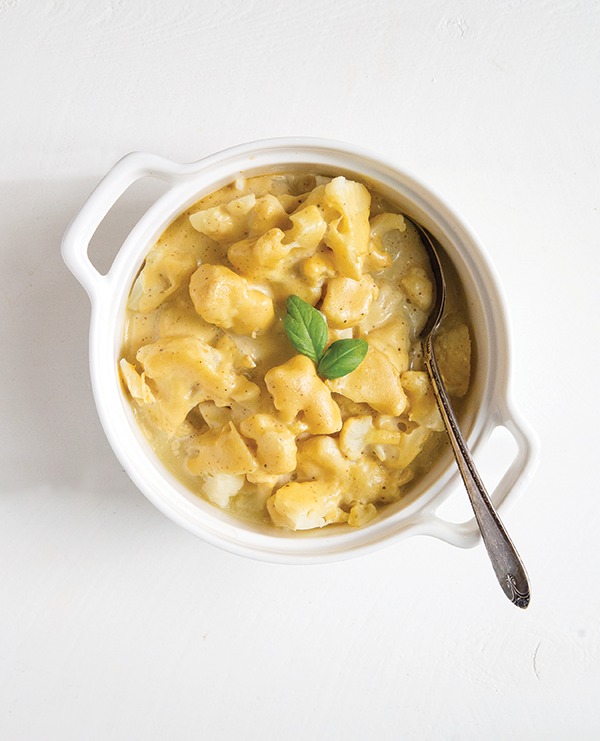 Prep Time :

5 minutes

Cook Time :

20 minutes

Servings :

4
This quick and easy recipe from the The China Study Cookbook is creamy and delicious. I make the sauce at least once a week and slather it on all types of veggies :) Recipe republished with permission by BenBella Books.
Chef's note: if you find that the sauce is too thick, add a small amount of water, one teaspoon at a time.  A little water goes a long way!
Ingredients
4 cups chopped cauliflower
½ cup vegetable broth
½ cup raw cashews
2 tablespoons nutritional yeast
1 tablespoon white miso
Sea salt and black pepper, to taste
Preparation
1. Preheat oven to 350°F.
2. Place cauliflower in a medium saucepan and pour in an inch of water. Cover and cook over medium-high heat until soft. Drain and transfer to a 9 × 9-inch baking dish.
3. Place vegetable broth, cashews, nutritional yeast, and white miso in a food processor. Process until smooth and creamy.
4. Mix sauce with cauliflower. Season with salt and black pepper.
5. Bake, uncovered, for 7–10 minutes.
6. Serve warm.
Let us know what you think of this easy vegan recipe: Creamed Cauliflower!