Vegan Recipe - Black & White Quinoa Timbale with Wasabi Pesto and Nori Strips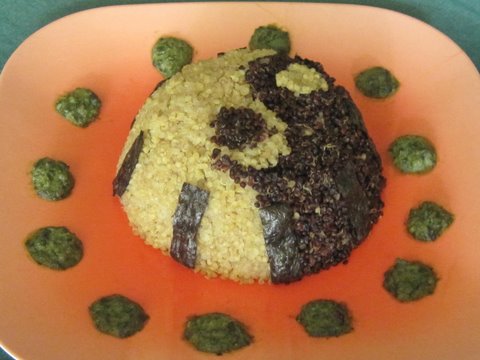 Prep Time :

15 minutes

Cook Time :

35 minutes

Servings :

4
Thanks to Mimi Clark of Veg Gourmet for sharing this super yummy quinoa recipe using Alter Eco fair trade quinoa!  Mimi has been a vegan cooking instructor and natural foods consultant in the Metropolitan Washington, D.C. area for the past 20 years.
Mimi says, "This dramatic, high protein quinoa dish can accompany an entree or stand alone. Nori strips embellish the quinoa, and wasabi pesto adds an unexpected burst of flavor!"
Ingredients
For wasabi pesto:
2 cups fresh basil, packed
2 cloves garlic
1/2 tsp. sea salt
2 tsp. wasabi powder
2 tbsp. toasted walnuts
1 tbsp. non-dairy milk
16, 2" x 1/2" strips nori sea vegetable vegetable oil spray
For quinoa:
1/2 cup Alter Eco Black Quinoa
1 cup vegetable broth
1/2 cup Alter Eco Pearl Quinoa
1 cup vegetable broth
Preparation
1. Rinse quinoas individually in fine mesh strainer.
2. Place quinoas in separate pots, add broth to each, cover and bring to boil.
3. Reduce heat and cook quinoas for 15 minutes until liquid is absorbed.
4. Turn off heat and let quinoas fluff for 10 minutes. Set aside to cool.
5. Combine pesto ingredients in food processor or blender and process until smooth.
6. Taste and adjust seasonings, adding more non-dairy milk if necessary.
To assemble timbales:
1. Lightly spray 4, 1-cup ramekins. Fill each ramekin with 1/2 cup white and 1/2 cup black quinoa in any design, packing down to insure easy release.
2. Place serving plate over one timbale and quickly flip it over onto the plate. Repeat with remaining quinoa.
3. With lightly damp fingers, adhere 4 nori strips, cut to size, shiny side out, to the exterior of the quinoa. Dollop pesto next to each timbale.
Let us know what you think of this easy vegan recipe: Black & White Quinoa Timbale with Wasabi Pesto and Nori Strips!
7 Responses to "Black & White Quinoa Timbale with Wasabi Pesto and Nori Strips"