Welcome Santa with Delicious Vegan Christmas Cookies!
It's almost Christmas and people all around the world are decorating trees, baking holiday treats, and getting to celebrate with loved ones. Need ideas to veganize your favorite cookie recipes?  I'm sharing a few of my favorite vegan Christmas cookie recipes.  I'm making some for Santa and some for me!
Give Santa a typical American treat with a gluten-free twist on classic vegan chocolate chip cookies: gluten-free cranberry chocolate chip cookie recipe made with almond flour.
Cookies with a South American flair — vegan Alfajores courtesy of the Healthy Voyager, sugar cookies with vegan dulce de leche in the center.

For a super yummy raw and gluten-free cookie, here's a recipe for raw chocolate peanut butter drops.
Looking for a hearty vegan and gluten-free cookie to feed Santa after his long trek from the North Pole? Try this recipe for chocolate cranberry cookies with mixed nuts.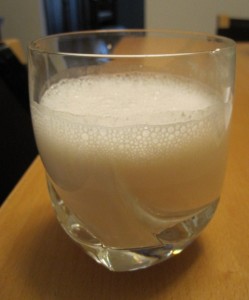 Offer Santa some nut milk to go along with his cookies.  Try homemade cashew nut milk; it's quick, easy and delicious!
For more vegan Christmas cookie ideas, visit veganbaking.net.
Wishing you a very Merry Christmas and a Happy New Year!
Rebecca Gilbert is the founder of Yummy Plants and the author of  It's Easy to Start Eating Vegan. She's a world traveler whose passion is to share the joy of vegan food and connect vegans all around the world. Rebecca is a former competitive figure skater whose switch to a vegan diet healed her chronic joint pain. She has appeared on Pittsburgh Today Live and been a featured speaker at the San Francisco World Veg Festival, Vegetarian Summerfest, and Paris Vegan Day.
Leave a Reply
You must be logged in to post a comment. If you don't have an account, please register