Vegan friendly restaurant
Sweet Ritual - Austin, Texas
Get the Details!
Location: 4500 Duval St., Austin, Texas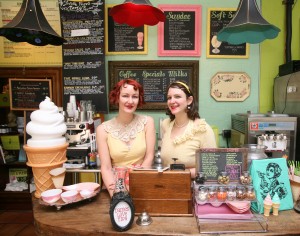 "Sweet Ritual is an old fashioned ice cream parlor that serves delicious vegan soft serve, sundaes shakes, and coffee. Open since December 2011 in Austin, TX, Sweet Ritual aims to provide delicious frozen desserts to suit a variety of dietary needs and tastes in a bright, cozy, vintage atmosphere. You'll find classic favorites and bold new flavors with something to please nearly everyone, as well as all your favorite coffee and espresso drinks. Sweet Ritual operates inside of Daily Juice Café, a juice bar and vegan/vegetarian café that has long been an Austin favorite.Hours: 10am to 9pm everyday" http://www.sweetritual.com/about
Note: Their soft serve vegan, gluten-free ice cream is based on soy and coconut milk, and they also have gluten-free cake cones!
Let us know what you think about this awesome vegan friendly restaurant: Sweet Ritual in Austin, Texas.