Vegan friendly restaurant
The Shakahari - Melbourne, Australia
Get the Details!
Location: 201-203 Faraday Street , Melbourne, Australia

(03) 9347 3848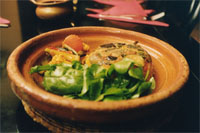 Tons of vegan options!  The entire restaurant is vegetarian and mostly vegan.  All menu items are clearly marked: 
vegan V, non-dairy N-D, no onion or garlic NO O-G and/or gluten-free G-F.
Let us know what you think about this awesome vegan friendly restaurant: The Shakahari in Melbourne, Australia.