Vegan friendly restaurant
Salada Beach Cafe – Pacifica - Pacifica, CA
Get the Details!
Location: 220 Paloma Avenue, Pacifica, CA

650-557-1356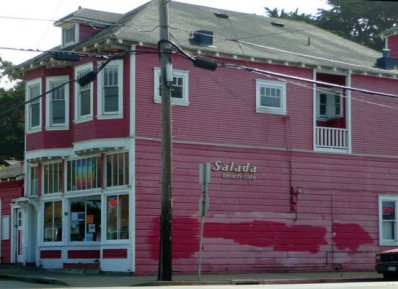 Salada Beach Cafe is past the Pacifica exit on 280S/ Hwy 1 on Paloma Avenue.  If you're looking for a vegan-friendly breakfast or lunch stop on hwy 1 as you're driving down the coast, Salada Beach Cafe is a cute local cafe.   Bookshelves line the walls and you're welcome to sip a soy latte and read for as long as you'd like.  They have oatmeal or granola with soymilk for breakfast, and a bunch of vegan options for lunch: veggie sandwiches with avocado and homemade hummus, stir-fried seasonal veggies and homemade corn pupusa with veggies... YUM!  It's super casual and truly feels like a beach cafe.  You can't see the ocean from the cafe, but it is just a few blocks away!  They have free Wi-Fi too.
Let us know what you think about this awesome vegan friendly restaurant: Salada Beach Cafe – Pacifica in Pacifica, CA.