Vegan friendly restaurant
Radiance Cuisine - San Rafael, California
Get the Details!
Location: 923 C Street, San Rafael, California

415-686-3442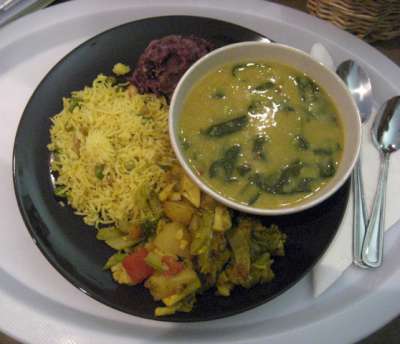 The folks at Radiance Cuisine say their food tastes good because it's made with love and care. I'd have to agree. Radiance serves the type of delicious, nourishing, invigorating food that people should be eating daily, but are lucky to find maybe a few times a year. The cuisine is largely Indian, but this isn't your average, oily Indian buffet with naan and samosas. The food here is way past that, and way better as well (and I would know, because I have Indian parents and have been eating this stuff for 30 years).
A note on the ambiance: this is a small cafe inside a new age book shop called Open Secret Bookstore. You feel like you're in someone's living room and that's a good thing. You feel welcomed and at ease. You want to stay and meet people and make friends.
They give you a few options on what to order; you can get the daily curry a la carte on a plate or in a smaller combo bowl (prices vary). I normally go for the combo bowl which costs $8 for lunch.
For this price you get a fabulous, simple curry with brown rice. One day it might be lentils, the next broccoli or beans, but it's always flavorful and satisfying and well-spiced. All of the food here comes from local farms. My curry burst with flavor and was so hearty and filling, but it also made me feel good afterward (no heaviness, no regret). You actually finish eating and feel refreshed and lighter than you did prior to eating. This is what good food should do for you.
The chocolate ladoo ($2.50) was also fabulous and an uber-rare example of an Indian dessert made vegan (impressive). And it's crave-worthy and delicious.
Radiance is at the top of the best food I've found in the Bay Area. I recommend it highly and will be returning as often as I possibly can. It has rightly earned one of my rare 5-star ratings.
Let us know what you think about this awesome vegan friendly restaurant: Radiance Cuisine in San Rafael, California.