Vegan friendly restaurant
Mother's Cafe - Austin, Texas
Get the Details!
Location: 4215 Duval St, Austin, Texas

(512) 451-3994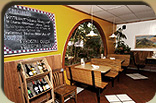 Wonderful and homey vegetarian and vegan restaurant with lots of great options. Especially love their veggie burger that won best veggie burger in Austin several years in a row.  Also reasonably priced, great service, and an all around good time.  Check out their schedule for weekend music performances in the back room also.
Let us know what you think about this awesome vegan friendly restaurant: Mother's Cafe in Austin, Texas.