Vegan friendly restaurant
Maoz - Philadelphia, Pennsylvania
Get the Details!
Location: 48 South St., Philadelphia, Pennsylvania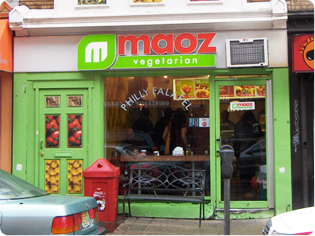 Maoz is a restaurant chain that is more prevalent in Europe than in the US; however, you can find Maoz in several states now. I find it comforting to know that chain restaurants that are healthy and vegan/vegetarian are cropping up. Maoz has the best falafel I have ever had in my life. The falafel is served with eggplant and hummus along with any veggie toppings and sauces you want. Their Belgian fries are delicious too!
Let us know what you think about this awesome vegan friendly restaurant: Maoz in Philadelphia, Pennsylvania.