Vegan friendly restaurant
Kingdom of Vegetarians - Philadelphia, Pennsylvania
Get the Details!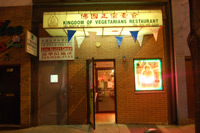 This place is called the Kingdom of Vegetarians for a reason! Kindgom has an extensive menu comprising of mock versions of all of your favorite Chinese food entries. The mock General Tso's Chicken is a must! The Dim Sum is also highly recommended as well. The price range is about $10.00 for an entry, and the portion sizes are large. I love to end my meal here with the fried bananas because they are super yummy!
Let us know what you think about this awesome vegan friendly restaurant: Kingdom of Vegetarians in Philadelphia, Pennsylvania.