Vegan friendly restaurant
Hodo Soy Beanery - San Francisco, California
Get the Details!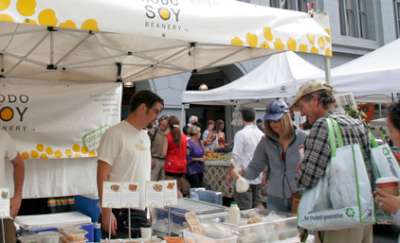 Hodo Soy has some excellent, high quality vegan products, including basic tofu, soy milk and yuba (tofu skins)  and flavored versions of all of those. The Hodo Soy stand in the Ferry Building also has chocolate pudding (flavored with chocolate from a nearby chocolate maker) and some cold curry wraps and sandwiches.
I got the pudding ($4) which was really tasty.
They also give you free samples of anything, so don't be shy about asking to try something out before you buy. Their spicy yuba dish is great, for example.
Hodo also sets up at the Berkeley Farmer's Market and the Palo Alto Farmer's Market. At the Ferry Building, they have a small stand inside, as well as outside.
Let us know what you think about this awesome vegan friendly restaurant: Hodo Soy Beanery in San Francisco, California.