Vegan friendly restaurant
Happy Bamboo Vegetarian Cafe - San Jose, CA
Get the Details!
Location: 1711 Branham Lane, Suite A9, San Jose, CA

408-694-0740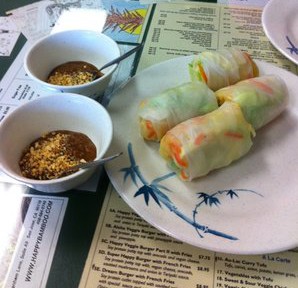 This restaurant is 100% vegan - including the desserts!  I personally had the
summer rolls
and the
vegan caramel flan
, which were absolutely delicious!   The Happy Bamboo Vegetarian Cafe is one of the few restaurants with vegan Mexican options, complete with vegan sour cream and vegan cheese.  And the corn tortillas are made with non-GMO corn!  The owners are absolutely committed to sustainability and use local organic produce as much as possible.  If you're looking for a good vegan restaurant in the San Jose area, give Happy Bamboo a try. They even have a vegan gluten-free menu!  
Note: they make everything to order, so if you have time constraints, you may want to call ahead.
Let us know what you think about this awesome vegan friendly restaurant: Happy Bamboo Vegetarian Cafe in San Jose, CA.
One Response to "Happy Bamboo Vegetarian Cafe"