Vegan friendly restaurant
Gopāl's Crêperie Kauai - Kapaa, Hawaii
Get the Details!
Location: 4-1620 Kuhio Highway, Kapaa, Hawaii

(808) 635-2164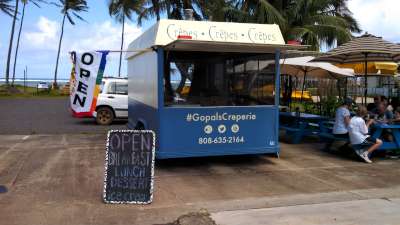 Gopāl's Crêperie, on the island of Kauai, serves sweet and savory crepes that are made fresh and hot using locally grown ingredients. The crepes are gluten-free and filled with raw, vegan, and vegetarian options. All ingredients are GMO-free and most ingredients are organic! Now you can even add delicious vegan coconut milk ice cream to make your  sweet crepe more divine! Make sure to stop by on a Tuesday through Friday from 8:30 to 2:00pm or Saturday from 10:00 to 4:00pm.
Let us know what you think about this awesome vegan friendly restaurant: Gopāl's Crêperie Kauai in Kapaa, Hawaii.