Vegan friendly restaurant
Garden Fresh - Palo Alto, California
Get the Details!
Location: 460 Ramona Street, Palo Alto, California

650-462-9298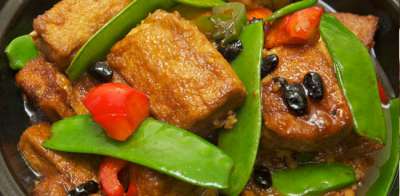 I love this place. Garden Fresh in Palo Alto is my go-to spot for quick, delicious, fresh, hearty, inexpensive meals. While there are a few dozen vegan Asian restaurants in the Bay Area, Garden Fresh stands out for its creativity, variety and simpler, fresher presentations and preparations. This isn't just generic Chinese or Vietnamese stripmall food made with vegan mockmeats instead of real meat; Garden Fresh serves thoughtful, innovative and unusual fare.
I've tried much of their menu and would highlight the following as my favorites:
-Scallion pancakes with carrots ($5) is an awesome appetizer that is basically crispy, fried dough with some subtly sweet soy sauce; every single person I know who has tried this dish loves it, regardless of whether they're vegan or not
-Orange veggie beef ($11) is one of the most unusual mockmeat dishes I've had; instead of using soy or wheat to make fake beef, Garden Fresh uses pressed shiitake mushroom. The end result is a slightly crisp, "meaty" slice of beef in a delectable orange-soy marinade with red chili. Definitely get this dish; you won't be able to tell that the beef is made with mushrooms, so even mushroom-haters should try this dish
-Basil Tempura ($12) consists of batter-fried vegetables with basil and a spicy sauce. This dish sounds basic (tempura isn't all that exciting, quite frankly), but Garden Fresh's preparation is just different somehow (feels less oily) and blows away every other tempura dish I've ever had.
-Black pepper veggie chicken ($11) is a bold and addictive dish made with lightly fried chicken, mushrooms, carrots and onions. A choice that everyone will enjoy.
-Hunan veggie chicken ($10) is a solid mixed-vegetable stir-fry. It's one of few dishes on the menu that comes with more than one or two vegetables, which is nice.
The service is always super-friendly and they give you a free cup of soup to start off. The food arrives quickly.
My only issues: this place is tiny and it's usually full during peak times. Expect a wait if you have a group larger than 2 (and I recommend against groups larger than 4, given the limited seating). Also, I wasn't impressed with the desserts, which felt dry and had weird texture (go to Loving Hut around the corner for desserts instead).
In conclusion, Garden Fresh is easily the best Asian vegan restaurant in the Bay Area, and just generally a creative and fun place that non-vegans will greatly enjoy (and perhaps prefer) as well.
Let us know what you think about this awesome vegan friendly restaurant: Garden Fresh in Palo Alto, California.