Vegan friendly restaurant
Fraiche Yogurt - Palo Alto, California
Get the Details!
Location: 200 Hamilton Avenue, Ste 110, Palo Alto, California

650-838-9819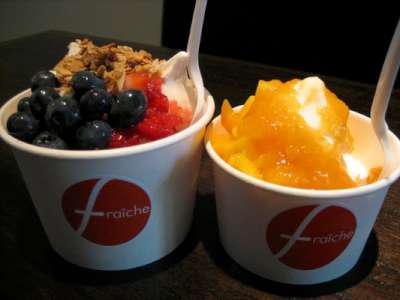 Fraiche Yogurt has one vegan frozen soy yogurt and then you can modify it with a variety of toppings. I got a junior size cup (~$3) and added dark chocolate shavings and strawberries for another $1.50.
For the record, the junior size cup is perfect size. I can't imagine how people could possibly consume more frozen yogurt in a single sitting.
Given the rarity of vegan soft-serve, I like that frozen yogurt offers an alternative.
Let us know what you think about this awesome vegan friendly restaurant: Fraiche Yogurt in Palo Alto, California.