Vegan friendly restaurant
Flacos - Berkeley, California
Get the Details!
Location: 3031 Adeline Street, Berkeley, California

510-981-8081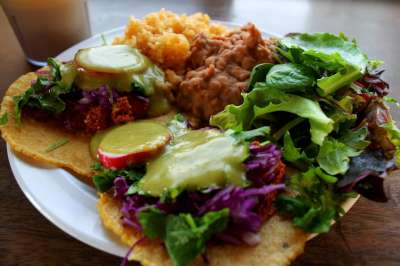 This is a great, inexpensive, small vegan taqueria. If I had my wish, this is the type of simple, fresh, bursting-with-flavor food that Gracias Madre (the more famous, but far less tasty, vegan Mexican joint in the Bay Area) would serve. Come to think of it, I can't really name any other vegan Mexican joint that matches the quality, freshness and simplicity of Flacos. I had a taquito ($2) and a soft shell taco ($3) as well as a polveron ($1).
Warning off the bat: You can choose "mild" or "spicy" for the taco. I chose spicy, as I love spicy food. But the spice levels here were nearly off the chart. They must use habaneros because one bite of the taco set my tongue on fire and made my lips burn for fifteen minutes straight. I kind of liked it (I grew up eating Indian, Mexican and Chinese food, after all). But I'm sure that 95% of the population cannot handle this level of spice. So don't mess around: order the mild version.
Anyway, the taco was great: an open-face, hand-made corn shell with shredded soy protein and some simple vegetable toppings (a piece of radish, some onions). This is how a taco in Mexico would be served. The taquito was even better. It's a deep-fried shell wrapped around a piece of soy protein. They use a great variety of soy protein which seemed a lot like real chicken to me. My only gripe: both were covered in a bright green sauce (made of cilantro? avocado?) that didn't add much in terms of flavor. They did make both items gooier, though, which wasn't great. As such, I'd hold off on the green sauce. The polveron is a baked flour ball covered in powdered sugar. It had hints of almond as well. I liked it a lot, especially considering it cost only $1.
There's some outdoor seating and maybe three tables for two on the inside, as well as a few spots at the counter, but don't come here with a group larger than two.
Flacos serves straight-up, simple, fresh, spicy vegan Mexican food. It's delicious, cheap and just awesome. If you have to choose between Gracias Madre and Flacos, don't even think twice: Flacos is the place to try.
Let us know what you think about this awesome vegan friendly restaurant: Flacos in Berkeley, California.