Vegan friendly restaurant
Calafia - Palo Alto, California
Get the Details!
Location: 855 El Camino Real # 130 , Palo Alto, California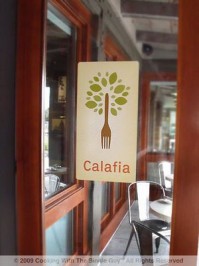 There is a FULL menu featuring SO many delicious and unique vegan/vegetarian/gluten free options! I know it may sound strange but my favorite is the Tofu Lentil Tofu with mashed potatoes and a miso mushroom gravy! All vegan and amazing! They also make their own Ginger Ale, using sparkling water, agave and ginger. The best drink I've ever had!
Let us know what you think about this awesome vegan friendly restaurant: Calafia in Palo Alto, California.
2 Responses to "Calafia"