Five Vegan Holiday Gift Ideas from GirlieGirl Army's Chloé Jo!
Are you looking for a special holiday gift for the vegan in your life?   The e-boutique at GirlieGirl Army has a terrific selection of holiday treats and treasures!  
Eco-fashion expert, and GirlieGirl Army founder, Chloé Jo says:
"People have always asked me where to find all my ultimate eco-friendly, cruelty-free picks in one place.  We launched the GirlieGirlArmy shop on Ethical Ocean to offer our vegan brethren a place to shop for fabulous, ethical, and well-made items all under one virtual roof. All of these items have been hand selected by me to ensure that they are good for the earth, good for the animals and good for us."
Chloé Jo is a writer, green expert, radio host, online personality, speaker, Mom, and ethical fashion expert.
Check out these 5 vegan holiday gift ideas from the GirlieGirl Army eco-boutique:
1. Coco Zen Truffles – 8 piece vegan chocolate  ($15.50)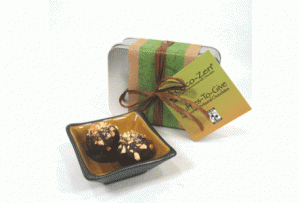 Let's all say YUM!!!!  These fair-trade, organic chocolate truffles  – with ganache centers made from fresh coconut milk! — are 100% vegan and 100% fabulous.  They come in a beautiful tin and make a great gift for anyone.
2. Organic Kids tees – "Give Peas a Chance" ($25.00)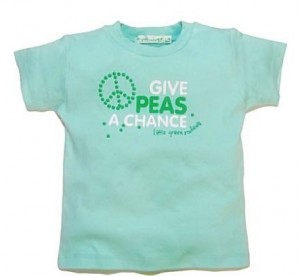 This adorable little shirt (available in long or short sleeves) for the adorable "little ones" in your life is made of earth-friendly, fair-trade certified, organic Egyptian cotton. Dyed with eco-friendly materials and  free of toxic pesticides , the  shirt is made in India in a shop that employs about 120 handicapped or disadvantaged women, providing them with valuable job opportunities, trainings, food, shelter and a loving support structure.
3. Olivewood Bowl from Elegant Roots ($49.00)

This gorgeous hand-carved serving bowl makes an elegant addition to any table. It comes from a single piece of sustainably harvested olivewood and is hand-sanded to a natural, beautiful finish.
4.  Cosmic Boots from OlsenHaus ($250)

These velvety boots look great with pants or skirts and add a chic elegance to any outfit.  The soft, comfy "Cosmic" vegan boots are available in chocolate and black.
Give the new mom a designer-print diaper bag that's all charm on the arm with room for everything baby needs.  Made of 100% cotton, fully lined, and machine washable, the bag has two interior plastic storage pockets, long shoulder straps, and a magnetic snap.  The Mod Mommy Bag – 14″ (36 cm) wide, 14″ (36 cm) high, 3″ (8 cm) deep – is ethically produced by The Fair Trade Zone in Nicaragua.
Thanks Chloé Jo for creating an eco-glam shop and for sharing your gift ideas with the Yummy Plants community!
Visit the e-boutique at GirlieGirl Army for more eco-friendly gift ideas!
One Response to "Five Vegan Holiday Gift Ideas from GirlieGirl Army's Chloé Jo!"