where can i find vegan food in berkeley
Gather in Berkeley has some vegan options. It's better for a mixed group than a group of vegans.  One yummy vegan option is a braised mushroom sandwich. The sandwich has a cashew puree that's awesome!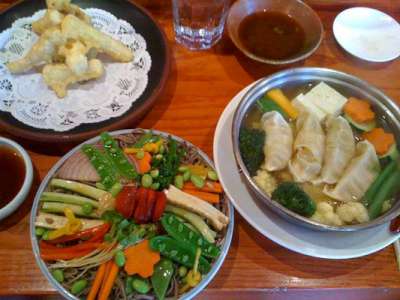 Cha-ya has a large, all vegan menu.  Prices at Cha-ya are good, and the space is quaint and inviting.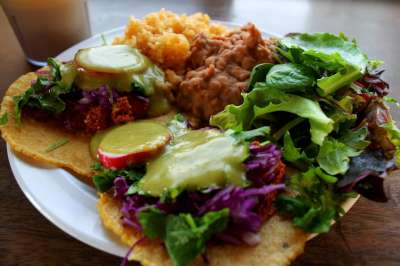 This is a great, inexpensive, small vegan taqueria. If I had my wish, this is the type of simple, fresh, bursting-with-flavor food that Gracias Madre (the more famous, but far less tasty, vegan Mexican joint in the Bay Area) would serve. Come to think of it, I can't really name any other vegan Mexican joint [...]
I rarely give 5-star reviews (roughly only 5% of my reviews have 5-star ratings), but Cinnaholic is seriously awesome. It's a simple bakery where you can make your own cinnamon rolls with a huge variety of sauces and toppings, or you can just get one of their pre-set styles (the varieties change by the day). [...]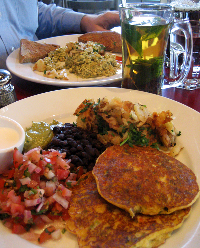 Herbivore is an entirely vegan restaurant – yay! Their plant-based menu is fabulous with delicious dishes such as coconut noodle soup, BBQ seitan sandwiches and veggie ceviche. They now have three locations as well. In San Francisco, you'll find them at 983 Valenica and 531 Divisadero. Their Berkeley location is 2451 Shattuck.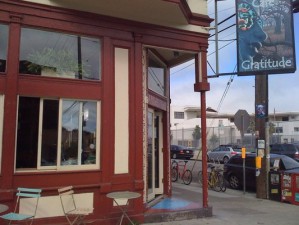 Cafe Gratitude is one of those very special places that you need to experience for yourself. Everything is completely plant-based, (vegan), and they still have chocolate mousse pie and nachos with cheese sauce! They have multiple locations in Santa Cruz and LA.