vegan restaurants in Ithaca
Pizza Aroma serves Daiya cheese on their vegan pizza and has just about any veggie you could want to put on your pizza. Eggplant, spinach, broccoli, roasted red peppers, avacado, etc. My favorite pizza combo is their Daiya cheese pizza with tomato and fresh basil. Yummy. A great place to get a pizza!!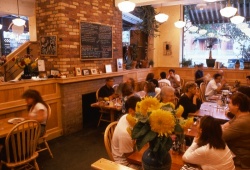 I bought their cookbook years ago – the restaurant is even better!