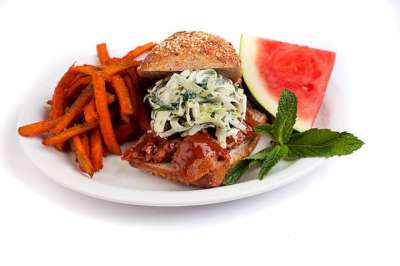 Native Foods Café has fast-casual vegan food made daily from scratch. They offer hearty dishes, delicious desserts and homemade beverages. The entire menu is 100% plant-based. Native Foods Cafe strives to statisfy diners looking for great-tasting food… both vegetarians and meat-eaters alike.  They have other locations in California, Colorado, Oregon, Chicago and Washington D.C.
Very unique (DELICIOUS) menu and completely vegan. They make everything fresh, including their own tempeh, seitan and vegan cheese & sauces. They also have an amazing selection of desserts and homemade drinks (lavender lemonade and watermelon fresca!)
3 locations in Chicago. Love the food.  They have 2 other locations in Chicago, one in Wicker Park and one in Lakeview. Note: The ENTIRE restaurant is vegan – even the mayo!
The Native Foods Cafe brand is a chain of restaurants dedicated to bringing healthy, organic, vegan foods to everyone. Their 10 locations, mostly on the West Coast and Chicago, create and serve chef-crafted, vegan, fresh foods every day of the week. We love restaurant chains that offer consistently fresh and delicious vegan food. Thanks Native Foods!
This place is AMAZING! The entire menu is dairy-free, even the mayo! And it is such a pleasure to know that everything is vegan… we don't even have to ask.  With its mix of "burgers" and fries, exotic salads, and pizzas with vegan cheese, there are lots of super yummy options.  And the desserts… oh [...]